ELGi to showcase its new, oil-free compressed air technology at ComVac 2019
April 1st - 5th 2019, Hall 26, Booth C12

ELGi, a global leader in providing compressed air solutions, will launch a revolution in oil-free compressed air technology at Hannover Messe ComVac 2019. Specifically, products that produce ISO Class 0 oil-free air at high efficiency rates, coupled with a low total cost of ownership and zero environmental impact, will be presented.
ELGi Equipments Limited, a leading air compressor manufacturer with an extensive range of innovative and technologically advanced compressed air solutions, will be participating in Hannover Messe ComVac 2019 (1st to 5th April 2019, Hall 26, Booth C12). ComVac, the leading trade fair for compressed air technology, will be held as part of Hannover Messe and is expected to attract 200,000+ visitors during the 5-day period.
Over the years, ELGi has earned worldwide accolades for designing customer-centric, compressed air solutions that are sustainable and help companies achieve their productivity goals while ensuring a lower total cost of ownership. ELGi's direct presence across the world spans the USA, Australia, Bangladesh, Brazil, China, the Gulf, India, Indonesia, Italy, Kenya, Malaysia, Nigeria, the Philippines, Thailand and Vietnam.
With a portfolio of 400+ products, ELGi's compressed air solutions range from oil-lubricated and oil-free rotary screw, centrifugal and reciprocating compressors, to dryers, filters and downstream accessories that help customers the world over to run their businesses efficiently. To power a 400+ product-strong portfolio, ELGi has state-of-the-art manufacturing facilities in India, Italy and the USA.
ELGi's products serve a wide variety of applications across industries ranging from manufacturing, food & beverage, construction, pharmaceuticals and textiles. ELGi does business in over 100 countries and is proud of its 2 million+ satisfied customers.
Find out more about ELGi - http://www.elgi.com/
Featured Product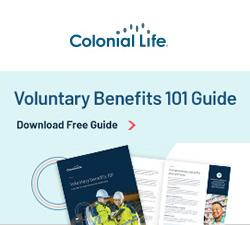 If there was ever a time to add voluntary benefits to your employees' compensation package, this is it. The tight labor market combined with supply chain bottlenecks, continued COVID-19 outbreaks, rising input costs and workforce challenges have helped drive a national trend of record high turnover rates for the manufacturing sector, making it imperative to evaluate compensation and benefits packages to remain competitive. The voluntary benefits 101 guide for manufacturers provides practical information about voluntary benefits without the jargon or complicated details. Download the guide.