New technology simplifies material selection for engineers during the order submission process.
February 7, 2019 -- New York, NY -- Link3D, the leader in additive manufacturing workflow and additive manufacturing execution system (AMES), is excited to announce the launch of its Additive Material Recommendation System (AMRS). This is integrated in the existing Link3D industrial 3D printing workflow solution to simplify material selection processes. AMRS helps engineers select the most appropriate materials based on qualitative and quantitative specifications for production.

Organizations today are seeking to reduce overhead cost and focus on value-added activities to bring parts to market quicker by optimizing human capital and financial resources. Link3D enables organizations to streamline their additive manufacturing supply chains. This begins from order submission, auto-quoting, production planning and scheduling, post-processing, quality inspection, logistics management across internal and distributed supplier network.
McKinsey reported one of the nine major technological limitation organizations face include 'Lack of Design Knowledge' found in the 'Design and Engineering' stage. As a result, Link3D launched AMRS to close the gap for understanding material performance across 1000+ materials and 500+ 3D printers. .
AMRS is an intelligent recommendation system that allows new-to-additive engineers select a material most fitting for their 3D printing builds through an intuitive filtering system. Engineers with an existing understanding of AM materials can easily access technical data for quicker decision-making without having to manually review material manufacturer's spec sheets.
As a result, engineers can design and produce higher quality, more economical, and functional 3D printing products. Engineers can narrow down material selections by filtering qualitative key characteristics and technical material property ranges:
1. By Qualitative Material Characteristics, examples for:
o Polymer key characteristics: rigid, strong, tough, accurate, biocompatible, durable, high temperature resistant and rubber-like specifications
o Metal key characteristics: corrosion resistant, oxidation resistant, biocompatible, high temperature resistant, electrical conductivity, ductile and thermal conductivity specifications
o Others: Hardness options, Material Colors
2. By Technical Material Properties: tensile strength (Mpa), tensile modulus (Gpa), elongation at break (%), material density and hardness
3. By Material Manufacturer: EOS, Concept Laser, Trumpf, Stratasys, Carbon, Renishaw, HP, Additive Industries, etc.
"One of the major recurrent hurdles we're hearing from our customers is how to accelerate the adoption of additive manufacturing within their own organization", explains Renaud Vasseur, VP of Business Development & Sales at Link3D. "We are thrilled that Link3D is introducing an additive manufacturing recommendation system that will not only help engineers achieve their design goals, but also increase overall understanding of the additive manufacturing capabilities and workflows."
Major industries like aerospace, automotive, and medical and industrial sectors are expected to account for 51% of the 3D printing market by 2025. It is important to introduce a digital strategy that can help save time by reducing administrative overhead across the value chain. Whether it is answering questions regarding materials from their colleagues via email or centralizing orders for production and automatically notifying their peers about production status updates across upstream and downstream manufacturing processes.
The processes involved with additive manufacturing must be simplified to achieve mass adoption within key industries. Intelligent recommendation systems like AMRS will help lower the friction of AM adoption. Engineers using the AMRS tool will be able to finally stay up-to-date with available technologies within their internal facility and 3D printing supplier network. This will speed-up design-cycle and production-cycle time, include a more efficient and streamlined additive manufacturing execution system to their overall additive manufacturing workflow process.
About Link3D
Link3D, headquartered in New York City, offers an additive manufacturing execution system to connect the digital thread and enable organizations to adopt and scale their strategy for Industry 4.0. Link3D centralizes the digital manufacturing ecosystem by introducing various levels of configuration, automation, and simulations to unlock the true benefits of additive manufacturing.
Featured Product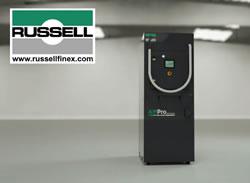 The Russell AMPro Sieve Station™ guarantees the quality of your additive manufacturing (AM) powder, and has been designed to provide optimum sieving efficiency, ensuring your powder is ready for use or reuse as and when you require it. With a simple one-button operation and mobile design, this automated check screener ensures your powder at every stage of the process is qualified for use quickly and safely. The flexibility of the Russell AMPro Sieve Station™ means you can use the system for numerous powder handling tasks - being a modular design ensures the machine can be configured to meet your exact requirements.