Online Catalogs BIMcatalogs.net and PARTcommunity Add Support for C3D Files
Augsburg, Germany and Moscow, Russia: November 29, 2018 - CADENAS, a leading software developer in the areas of strategic parts management and electronic product catalogs, and C3D Labs, the fast-growing provider of 3D software development toolkits, today announced their partnership in technology integration.

The CADENAS download portals PARTcommunity and BIMcatalogs.net provide engineers, architects and planers millions of 3D CAD & 3D BIM CAD models of electronic product catalogs from component manufacturers. Thanks to the partnership of CADENAS and C3D Labs the download portals supports CAD models in the C3D kernel format developed by C3D Labs, by integrating the C3D Converter data exchange module into CADENAS web servers. Designers who use C3D-based CAD software can now access models in native format from PARTcommunity and BIMcatalogs.net, and then integrate them in their projects without data loss.
CADENAS hosts certified product catalogs from over 700 renowned manufacturers. CADENAS download portals let designers download models and specifications in a variety of exchange and native CAD formats, including now C3D.
CAD models in the C3D format are now available for downloading from the following CADENAS sites:
• Renga available on www.BIMcatalogs.net for the architecture and building industries
• KOMPAS-3D available on www.partcommunity.com for mechanical and electrical design
To import models in C3D format, the users software has to be able to read .c3d files. At present, KOMPAS-3D v18 mechanical CAD and the Renga series of BIM applications meet the requirement.
"We are very happy that we can provide the C3D kernel format because many engineers and architects requested it because it is included in CAD software like KOMPAS-3D, says Jürgen Heimbach, CEO of CADENAS GmbH.
"Thanks to our collaboration with CADENAS, Renga and KOMPAS-3D users can now download 3D models in the C3D format," says Oleg Zykov, CEO of C3D Labs. "This move will encourage other developers who use our C3D Toolkit to implement the C3D file format in their products. Not only can designers now get models in C3D format from CADENAS, but they will be able to exchange data accurately with each other."
About CADENAS
CADENAS is a leading software manufacturer in the areas strategic parts management (such as PARTsolutions) and electronic CAD product catalogs (eCATALOGsolutions). Through its customized software solutions, the company links component manufacturers with buyers.
The name CADENAS is based on the Spanish word for "chain," and stands for success, creativity, support, and process optimization. In operation since 1992, the company has 300 employees in 18 locations worldwide. For more information, see https://www.cadenas.de/en/
Featured Product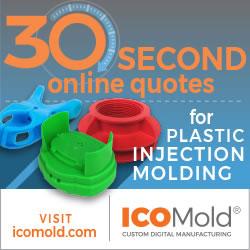 ICOMold provides plastic injection molding, CNC machining of plastic and metal, and urethane casting to customers worldwide in a variety of industries. We offer low-cost, high-quality custom plastic parts manufactured to your design, with a very fast turnaround. Any quantities from single prototypes to large, on-demand production runs. We are ISO 9001:2008 certified, and our production molds carry a lifetime warranty. Get an online quote in less than 30 seconds with our interactive quotation system.