More than 450 companies will gather at SEMICON Korea 23 – 25 January 2019, at the COEX in Seoul – for the latest microelectronics developments and trends from industry leaders and visionaries.
SEOUL, South Korea - November 20, 2018 - With Korea expected to remain the worlds largest consumer of semiconductor equipment, building on its 18 percent share in 2018, SEMICON Korea 2019 is poised to connect global electronics manufacturing companies to new opportunities. More than 450 companies will gather at SEMICON Korea 23 - 25 January 2019, at the COEX in Seoul - for the latest microelectronics developments and trends from industry leaders and visionaries. Registration is now open.

SEMICON Korea, the premier event in Korea for electronics manufacturing, features key insights in artificial intelligence (AI), SMART manufacturing, talent and other critical industry issues. SEMICON Korea brings companies together to "Connect, Collaborate, and Innovate" as the event is poised to set a record of more than 2,000 booths.
• CONNECT to business and technology leaders to uncover new industry relationships
• COLLABORATE with industry experts across the electronics manufacturing supply chain
• INNOVATE to drive new technologies and business
SEMICON Korea 2019 highlights include the following:
AI Summit - AI is powering the next phase of semiconductor industry growth with applications across automotive, manufacturing, and more. Summit attendees will meet industry leaders to discuss new AI collaborations and emerging business opportunities.
MEMS and Sensors Summit - Data acquisition from the edge is essential for IoT and AI to flourish, driving growth of the MEMS and sensor industry. Industry-leading MEMS and sensors companies will share their visions, technology roadmaps and business models for enabling IoT and AI.
SMART Manufacturing Forum - Manufacturing adaptability is a key enabler of advanced technologies and applications. Industry leaders will gather to explore whats needed to leverage advanced analytics, improve the use of real-time simulation and cyber-physical systems and better integrate the supply chain to drive greater manufacturing flexibility.
Workforce Development - The new Workforce Pavilion at SEMICON Korea extends SEMIs efforts to help tackle the industrys vital need for talent. The Pavilion offers university students interviews with industry experts and tutorials on semiconductor production to help students explore career paths. SEMICON Korea will also launch a mentoring program to help students enter careers in semiconductor manufacturing.
SEMICON Korea 2019 will also feature its popular business matching program with seven device makers and original equipment manufacturers (OEMs) meeting with 100 potential customers.
"SEMICON Korea 2019 provides programs that help power industry growth," said H.D. Cho, president of SEMI Korea. "We continue to expand our event offerings to offer new ways for the industry to "Connect, Collaborate and Innovate."
For more event information, please click here.
About SEMI
SEMI® connects over 2,000 member companies and 1.3 million professionals worldwide to advance the technology and business of electronics manufacturing. SEMI members are responsible for the innovations in materials, design, equipment, software, devices, and services that enable smarter, faster, more powerful, and more affordable electronic products. FlexTech, the Fab Owners Alliance (FOA) and the MEMS & Sensors Industry Group (MSIG) are SEMI Strategic Association Partners, defined communities within SEMI focused on specific technologies. Since 1970, SEMI has built connections that have helped its members prosper, create new markets, and address common industry challenges together. SEMI maintains offices in Bangalore, Berlin, Brussels, Grenoble, Hsinchu, Seoul, Shanghai, Silicon Valley (Milpitas, Calif.), Singapore, Tokyo, and Washington, D.C. For more information, visit www.semi.org and follow SEMI on LinkedIn and Twitter.
Featured Product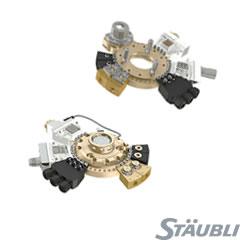 Stäubli is a pioneer in the construction and development of robotic tool changing systems. Our customers benefit from our many years of expertise in all industry sectors, as well as our modular product concept, which offers three efficient solution paths: MPS COMPLETE offers preconfigured robotic tool changers for immediate use. MPS MODULAR allows the user to determine the configuration, while MPS CUSTOMIZED allows the construction of special, application-specific systems.