Bruce Rauner to discuss the Importance of Manufacturing in Illinois
McLean, Va., (September 12, 2018) - On September 12, 2018 Illinois Governor Bruce Rauner will discuss the importance of manufacturing in Illinois, addressing the IMTS 2018 audience from the main stage in the Grand Concourse of McCormick Place at 9:35 a.m. He will also appear on IMTSTV, visit the Smartforce Student Summit and tour the show floor.

IMTS 2018 has broken all previous records for largest show. Yesterday, visitor registration reached 122,636, eclipsing the old record by nearly 1,000 visitors. Other new records for IMTS 2018 include 1,424,232 sq. ft. of exhibit space and 2,123 booths representing 2,563 exhibiting companies. Previous historical highs were 1,415,848 sq. ft. of exhibit space at IMTS 2000, 2,407 exhibiting companies at IMTS 2016, 1,475 booths at IMTS 2014 and 121,764 visitors at IMTS 1998.
Featured Product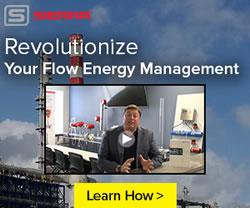 Sierra Instruments announces the launch of its new flow energy solution for managing and optimizing flow measurement for industrial facilities of all sizes. It features Sierra's QuadraTherm 640i/780i thermal flow meters, their InnovaMass 240i/241i vortex flow meters, and their new InnovaSonic 207i ultrasonic flow meter. Designed, built, and calibrated in the USA by Sierra, the Big-3TM share the same revolutionary Raptor firmware and many of the same software apps. They are a complete flow energy solution for flows like compressed air, natural gas, steam, and hot and chilled water. Together, they set a new standard in ease-of-purchase, performance, accuracy, reliability, and ease of use.