Bruce Rauner to discuss the Importance of Manufacturing in Illinois
McLean, Va., (September 12, 2018) - On September 12, 2018 Illinois Governor Bruce Rauner will discuss the importance of manufacturing in Illinois, addressing the IMTS 2018 audience from the main stage in the Grand Concourse of McCormick Place at 9:35 a.m. He will also appear on IMTSTV, visit the Smartforce Student Summit and tour the show floor.

IMTS 2018 has broken all previous records for largest show. Yesterday, visitor registration reached 122,636, eclipsing the old record by nearly 1,000 visitors. Other new records for IMTS 2018 include 1,424,232 sq. ft. of exhibit space and 2,123 booths representing 2,563 exhibiting companies. Previous historical highs were 1,415,848 sq. ft. of exhibit space at IMTS 2000, 2,407 exhibiting companies at IMTS 2016, 1,475 booths at IMTS 2014 and 121,764 visitors at IMTS 1998.
Featured Product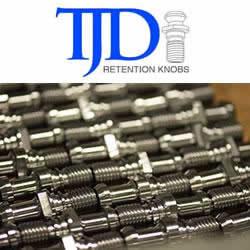 Our retention knobs are manufactured above international standards or to machine builder specifications. Retention knobs are manufactured utilizing AMS-6274/AISI-8620 alloy steel drawn in the United States. Threads are single-pointed on our lathes while manufacturing all other retention knob features to ensure high concentricity. Our process ensures that our threads are balanced (lead in/lead out at 180 degrees.) Each retention knob is carburized (hardened) to 58-62HRC, and case depth is .020-.030. Core hardness 40HRC. Each retention knob is coated utilizing a hot black oxide coating to military specifications. Our retention knobs are 100% covered in black oxide to prevent rust. All retention knob surfaces (not just mating surfaces) have a precision finish of 32 RMA micro or better: ISO grade 6N. Each retention knob is magnetic particle tested and tested at 2.5 times the pulling force of the drawbar. Certifications are maintained for each step in the manufacturing process for traceability.