Bruce Rauner to discuss the Importance of Manufacturing in Illinois
McLean, Va., (September 12, 2018) - On September 12, 2018 Illinois Governor Bruce Rauner will discuss the importance of manufacturing in Illinois, addressing the IMTS 2018 audience from the main stage in the Grand Concourse of McCormick Place at 9:35 a.m. He will also appear on IMTSTV, visit the Smartforce Student Summit and tour the show floor.

IMTS 2018 has broken all previous records for largest show. Yesterday, visitor registration reached 122,636, eclipsing the old record by nearly 1,000 visitors. Other new records for IMTS 2018 include 1,424,232 sq. ft. of exhibit space and 2,123 booths representing 2,563 exhibiting companies. Previous historical highs were 1,415,848 sq. ft. of exhibit space at IMTS 2000, 2,407 exhibiting companies at IMTS 2016, 1,475 booths at IMTS 2014 and 121,764 visitors at IMTS 1998.
Featured Product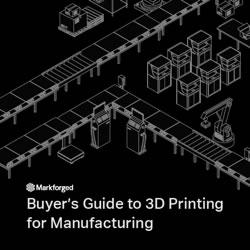 3D printing has become a powerful force in today's manufacturing industry from prototyping to tooling and fixtures to custom, end-use parts. Many businesses struggle to find the right solutions to fit their needs and provide ROI. Selecting the right platform to prevent manufacturing roadblocks is vital to optimizing your manufacturing line productivity. Download the all new buyer's guide to help you evaluate the benefits of 3D printing and dispel misconceptions, understand the pros/cons of various 3D printing processes and materials, and assess the key considerations in selecting a 3D printer.