Visit Booth# 121824 to Explore Renesas Industrial Network Solutions for Time-Sensitive Networking, Security, and Synchronized Distributed Motion at the Endpoint
Renesas Electronics Corporation, a premier supplier of advanced semiconductor solutions, will showcase its embedded innovation for the connected factory and Industrial IoT (IIoT) environments at the 2018 International Manufacturing Technology Show (IMTS), which takes place September 10-15 at McCormick Place in Chicago, Illinois.

During IMTS, Renesas will demonstrate several high-performance connected solutions featuring its RZ/N1 group of microprocessors (MPUs) and ICs for EtherCAT®, highlighting ways to increase efficiency, automation and security in industrial networking environments.
Technology Demonstrations
Renesas RZ/N1 Time Sensitive Networking (TSN)
TSN is the next-generation IEEE 802.1 deterministic Ethernet standard for the IIoT that will unify the various fieldbuses into a single network infrastructure. This TSN demonstration highlights the RZ/N1 MPU as a TSN endpoint with time-synchronized communication that bridges the IT and OT domains and acts as a "gateway" that supports the TSN features of robustness, redundancy, and real-time operation required in the manufacturing (OT) domain, yet is compatible with IT bandwidth requirements.
Network Security for Endpoints
Ethernet and IP protocols provide visibility to the outside world, enabling remote monitoring and time-based analytics, and improving overall efficiencies for connected factories, while also creating new security challenges. One solution: Design in security at the endpoint and network devices - typically resource-constrained embedded devices - rather than adding layers of IT-level network security. Renesas will demonstrate the design-in approach leveraging the RZ/N1 MPU with a network security framework that integrates an industrial-grade firewall and TLS, together with intrusion detection components to detect, report, and act on anomalous network traffic.
Distributed Motion with Renesas EC-1 EtherCAT ASSP
One of the leading Industrial Ethernet protocols for automation applications, EtherCAT requires data cycle times as low as ≤ 100 µs, and low communication jitter. This demo highlights the high-performance capabilities of EtherCAT, with a distributed EtherCAT network and Renesas EtherCAT slave devices driving motors/discs spinning in tight synchronicity, while exploring the cost benefits of combining the EtherCAT slave controller and a real-time processor.
Real-time Industrial IoT Gateway
Typical IIoT systems use IT-based gateways, which aggregate data from multiple systems and provide a cloud interface for trend analytics or remote monitoring but lack the granularity of real-time network data in the OT domain. The Renesas RZ/N1 enables an exchange of data between the two domains, partitioning between leading industrial networks for control, such as EtherCAT, Profinet, Ethernet/IP or even OPC UA, and cloud/on-premise platforms for deeper analytics. At IMTS, Renesas will highlight the RZ/N1 to demonstrate a secure, real-time, end-to-end gateway solution communicating as an OPC UA server that can be connected to any OPC UA client or to a cloud interface, extending the IT definition of the "edge" of the network down to the real-time domain of the machine itself.
For more information about Renesas, follow Renesas Electronics America at @RenesasAmerica on Twitter and https://www.facebook.com/RenesasElectronics.
About Renesas Electronics Corporation
Renesas Electronics Corporation (TSE: 6723) delivers trusted embedded design innovation with complete semiconductor solutions that enable billions of connected, intelligent devices to enhance the way people work and live—securely and safely. A global leader in microcontrollers, analog, power and SoC products and integrated platforms, Renesas provides the expertise, quality, and comprehensive solutions for a broad range of Automotive, Industrial, Home Electronics, Office Automation and Information Communication Technology applications to help shape a limitless future. Learn more at renesas.com.
(Remarks) EtherCAT is a registered trademark and patented technology licensed from Beckhoff Automation GmbH of Germany. All other registered trademarks or trademarks are the property of their respective owners.
Featured Product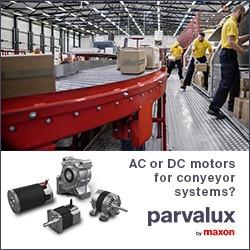 This GB56 right-angled, coupling driven gearbox from Parvalux packs a powerful punch in a small package. A width of 39mm and an output torque of 50 Nm in short-term operation. Ideal for applications where space is at a premium.