Smart manufacturing solutions for processing and packaging
The Industrial Internet Consortium® (IIC™), the worlds leading organization transforming business and society by accelerating the adoption of the Industrial Internet of Things (IIoT), today announced it will exhibit at PACK EXPO International as part of the PACK EXPO International Partner program. With more than 2,500 exhibitors and 50,000 attendees, PACK EXPO International is the worlds largest packaging trade show.

CONFERENCE: PACK EXPO International
DATES: October 14-17, 2018
LOCATION: McCormick Place, Chicago, IL, USA
BOOTH #: Booth N-6001
"Smart manufacturing solutions are essential for the packaging and processing of manufactured goods," said John Kowal, Chair of the IIC Smart Factory Task Group and Director Business Development, B&R Industrial Automation. "At PACK EXPO International, we are delighted to share what we have learned about smart manufacturing from working with manufacturing-related testbeds. IIC testbeds allow us to test products, solutions and processes in order to enhance efficiencies for smart factories."
About Industrial Internet Consortium
The Industrial Internet Consortium is the worlds leading membership program transforming business and society by accelerating the Industrial Internet of Things (IIoT). The IIC delivers a trustworthy IIoT in which the worlds systems and devices are securely connected and controlled to deliver transformational outcomes. The Industrial Internet Consortium is a program of the Object Management Group (OMG). For more information, visit http://www.iiconsortium.org.
Featured Product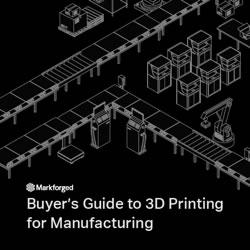 3D printing has become a powerful force in today's manufacturing industry from prototyping to tooling and fixtures to custom, end-use parts. Many businesses struggle to find the right solutions to fit their needs and provide ROI. Selecting the right platform to prevent manufacturing roadblocks is vital to optimizing your manufacturing line productivity. Download the all new buyer's guide to help you evaluate the benefits of 3D printing and dispel misconceptions, understand the pros/cons of various 3D printing processes and materials, and assess the key considerations in selecting a 3D printer.