• Oerlikon AM and Lufthansa Technik will jointly establish replicable additive manufacturing (AM) processes and standards for maintenance, repair and overhaul (MRO) applications • The objective is to guarantee robust and repeatable processes on multiple machines in multiple locations
Pfäffikon Schwyz, Switzerland & Hamburg, Germany - July 11, 2018 - Oerlikon (SIX: OERL), a leading technology and engineering group, and Lufthansa Technik, a leading provider of maintenace, repair and overhaul (MRO) services for civil aircraft, engines and components, today signed a Memorandum of Understanding (MOU) to establish robust and repeatable processes for additive manufacturing (AM) in the aicraft MRO industry. The partnership is an important step toward the industrialization of AM in the aircraft MRO industry and aims to take advantage of potential flexibility and cost savings in manufacturing, procurement, warehousing and supply chain management.

"We are confident that Oerlikon's extensive expertise in additive manufacturing and the aerospace industry, combined with our proven ability to integrate solutions throughout the manufacturing value chain on a global scale will bring great benefits to Lufthansa Technik," said Dr. Roland Fischer, CEO, Oerlikon Group. "We look forward to strengthening our partnership with Lufthansa Technik and working with them to develop reliable, repeatable and quality-assured additive manufacturing processes, standards and products for the MRO industry."
"Lufthansa Technik is active in areas such as the cabin of the future, 3D printing, and Industry 4.0," said Bernhard Krueger-Sprengel, vice president, Engine Services, at Lufthansa Technik. "We see the partnership with Oerlikon's AM team as an exciting opportunity to accelerate Lufthansa Technik's plan of having local AM repair capabilities on a global scale."
Oerlikon AM and Lufthansa Technik will build up representative component geometrics. The components will be printed on identical printers in three global locations: Oerlikon AM Charlotte (North Carolina, USA), Oerlikon AM Barleben (Germany) and Lufthansa Technik in Hamburg (Germany). The same process parameters and powder specifications will be used to understand process repeatability. The partnership is for a one-year period and may be extended to other models of printers as more data on manufacturing processes is collected.
The collaboration between Oerlikon AM and Lufthansa Technik will help drive the industrialization of additive manufacturing as the study results will be shared with relevant industry bodies to support defining standards for the qualification and approval of aircraft components.
To learn more about both companies, visit: https://www.oerlikon.com/am and https://www.lufthansa-technik.com.
About Lufthansa Technik
With some 35 subsidiaries and affiliates, the Lufthansa Technik Group is one of the leading providers of technical aircraft services in the world. Certified internationally as maintenance, production and design organization, the company has a workforce of more than 25,000 employees. Lufthansa Technik's portfolio covers the entire range of services for commercial and VIP/special mission aircraft, engines, components and landing gear in the areas of digital fleet support, maintenance, repair, overhaul, modification, completion and conversion as well as the manufacture of innovative cabin products.
Find more info about us on:
www.lufthansa-technik.com
Twitter: @LHTechnik
Facebook: LufthansaTechnikGroup
Instagram: LHTechnik
LinkedIn: Lufthansa Technik AG
Youtube: LufthansaTechnikGroup
About Oerlikon
Oerlikon (SIX: OERL) engineers materials, equipment and surfaces and provides expert services to enable customers to have high-performance products and systems with extended lifespans. Drawing on its key technological competencies and strong financial foundation, the Group is sustaining mid-term growth by executing three strategic drivers: addressing attractive growth markets, securing structural growth, and expanding through targeted M&A. A leading global technology and engineering Group, Oerlikon operates its business in three Segments (Surface Solutions, Manmade Fibers and Drive Systems) and has a global footprint of around 15 000 employees at 186 locations in 37 countries. In 2017, Oerlikon generated CHF 2.8 billion in sales and invested CHF 107 million in R&D.
About Oerlikon AM Business Unit
Oerlikon is a leading service provider in additive manufacturing, offering a full-range of integrated additive manufacturing services along the entire value chain - from metal powder production to component design, manufacturing, post-processing and quality inspection. In 2016, Oerlikon acquired citim GmbH to complement its additive production capabilities in Europe and the USA. Oerlikon is also building a state-of-the-art manufacturing facility in Michigan, USA, to produce advanced materials for additive manufacturing applications.
Featured Product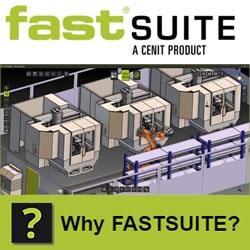 With two product lines, FASTSUITE for V5, which is seamlessly integrated with CATIA/DELMIA V5, and FASTSUITE Edition 2, a standalone platform, the areas of OLP (offline programming), manufacturing simulation and virtual commissioning are the core of our business activities. Our applications and solutions are not only focused on real customer needs, but they are also designed to improve efficiency and quality of our customers' manufacturing processes. No matter if the process is just about offline programming of a single robot at a small job-shop company or about the validation of a complete production line at an Automotive or Aerospace OEM. We strive to ensure a constant quality of our services and to provide the best possible support to our worldwide customers. Therefore we have established three digital manufacturing hubs around the world. All our teams have a proven expertise on manufacturing process integration and profound IT implementation skills.