Innovative clamping solutions expand flexibility for users in critical assembly and welding applications in the automotive, aircraft and consumer goods industries
Auburn Hills, Michigan (July 10, 2018) - Destaco, the industry-leading supplier of high-performance automation, workholding, and remote handling solutions, is excited to announce the availability of its new VV85G Series Precision Guides.

"This launch represents the continuation of our commitment to provide innovative and practical clamping solutions for our global client base," said Matt McCartney, Destacos Vice President, Strategy, Marketing & Product Management. "The new precision guides allow us to give our customers a greater selection and flexibility in their welding and assembly applications, especially in the automotive and transport industries."
When used in conjunction with Destacos power clamp, pin clamp and pin packages, the precision guides provide users increased operational reliability in applications such as sheet-metal welding for automotive body-in-white. Besides welding, they have also been tested for use in assembly and quality-test fixtures in the aircraft and consumer goods industries.
Destacos precision guide units have the same mounting-hole pattern as our power-clamp products and are especially suitable for applications where widely extending pins need to be used to locate parts. This also makes them ideal for applications where multiple parts are produced on a single production line where clamping and locating points are situated in different positions.
The precision guides feature high repeatability, integrated sensing and mechanical locking in both terminal positions, which improves user safety. They have an enclosed body that protects the internal mechanism and are maintenance-free for 3 million cycles. The result is units that reduce design and assembly times, while increasing cost-effectiveness and operational flexibility.
To learn more about any of Destacos high-performance automation, workholding or remote-handling solutions, please visit destaco.com
About Destaco
Destaco, a Dover Corporation company, is a global leader in the design and manufacture of high-performance automation, workholding and remote-handling solutions. The company serves customers in a variety of end-markets, including the automotive, life sciences, consumer packaged goods, aerospace, industrial and nuclear sectors.
Built on a legacy of more than 100 years, Destaco offers a comprehensive portfolio of products designed to engineer precise movement, placement and control solutions that drive productivity and uptime for manufacturers around the world. The Destaco family of products consists of industry-leading brands such as Destaco Manual Clamps, Power Clamps, and End Effectors; CAMCO™ and Ferguson™ Indexers; Robohand™ Grippers; and CRL™ Manipulators and Transfer Ports.
Destaco is based in Auburn Hills, Michigan, U.S.A. The company has more than 800 employees with 13 locations, in 9 countries, across the Americas, Europe and Asia.
Destaco is part of Dover Corporation, a diversified global manufacturer with annual revenue of approximately $7 billion. Dover delivers innovative equipment and components, specialty systems, consumable supplies, software and digital solutions, and support services through three major operating segments: Engineered Systems, Fluids and Refrigeration & Food Equipment. Headquartered in Downers Grove, Illinois, Dover trades on the New York Stock Exchange under "DOV."
More information is available at destaco.com and dovercorporation.com.
Featured Product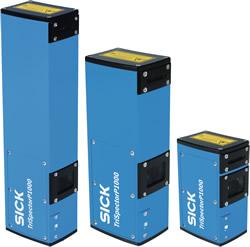 LiDAR (Light Detection and Ranging) is one of the most reliable methods for parts sensing in factory automation today. SICK has made this technology affordable and easy to use! Click on the video link below to learn about the TiM1xx LiDAR sensor and how it provides: - Area scanning LiDAR technology in a standard sensor package - 200-degree field of view and 3 meter sensing range allows for 169 square feet of area scanning - Compact size and light weight enables ease of deployment in "non-standard" type applications, like end-of-arm robotic tooling - Wide area scanning without having to mount a transmitter and receiver makes installation much easier - IO Link for easy configuration