Advanced Technology Institute aims to develop product application skills
ELK GROVE VILLAGE, Ill. (May 16, 2018) - Wynright Corporation, a wholly-owned subsidiary of Daifuku North America Holding Company and a leading U.S.-based provider of intelligent material handling systems, today announced its Advanced Technology Institute by far surpassed previous attendance records. The Daifuku Advanced Institute aims to develop the product application skills of its Integrator Partners sales, engineering, and management personnel.

The class focuses on discussing the entire scope of Daifuku Wynright's automated handling solutions in a classroom setting, immediately followed by practical hands-on sessions in the firm's 40,000 square foot state-of-the-art Innovation Center which showcases the company's vast array of material handling solutions and equipment. The facility brings together a multitude of Daifuku Wynright material handling products and technologies under one roof including software, robotic truck loading and unloading, robotic palletizing and depalletizing, unit load and shuttle automated storage and retrieval solutions, automated AGC & AGV delivery solutions, conveyor and high speed sortation solutions, structural solutions, and a variety of voice- and light-directed fulfilment solutions.
Ron Adams, Executive Vice President, Products of Wynright Corporation commented, "The Daifuku Wynright team is committed to our Integrator Partner Program through ongoing investments in our products and services enabling the success of our valued partners and clients."
Upon completion of the program, participants leave with the knowledge required to identify potential applications for the firm's automated material handling equipment and to take the necessary steps to implement efficient solutions.
"Our Advanced Technology Institute is a tool for our Integrator Partners and clients to help stay up to speed on the latest trends in material handling automation," stated Gordon Hellberg, Vice President Integrator Sales. "The ability to stay current, coupled with our desire to provide value to our Integrator Partners has really spurred tremendous growth of our Integrator Partner Program", concluded Hellberg.
Classes focusing on various technologies are offered on a first-come first-served basis throughout the year. For additional information on upcoming classes, click here to contact an account executive in your area.
About Wynright Corporation
Wynright Corporation, a subsidiary of Daifuku North America Holding Company, is a leading provider of intelligent material handling systems. With more than 200 engineers in-house, the company designs, manufactures, integrates and installs a full spectrum of intralogistics solutions, offering both Wynright-branded and third-party equipment to meet client needs. These include leading-edge conveyor and sortation systems, voice- and light-directed order fulfillment equipment, a suite of warehouse controls & execution software, robotics, Automated Storage and Retrieval Systems (AS/RS), mezzanines, and structures, all backed by critical round-the-clock service and support.
Since its founding in 1972, Wynright has been a trusted partner to some of the world's largest and fastest-growing companies, showing them how to use their space more efficiently to deliver improved productivity, today and tomorrow.
About Daifuku North America Holding Company
Daifuku North America Holding Company is based in Novi, Michigan, with sales and manufacturing locations throughout the continent. It is comprised of Daifuku America Corporation, Jervis B. Webb Company, Elite Line Services, Inc. (ELS), Logan Teleflex, Inc., and Wynright Corporation and is a global leader in the design, engineering, manufacturing, installation and service of innovative material handling technology such as automatic guided vehicles (AGVs), automated storage and retrieval systems (AS/RS), conveyors, baggage handling systems, cleanroom systems and airport maintenance services. Daifuku North America specializes in integrated systems used in the automotive, airport, semiconductor, LCD equipment, food/beverage, warehousing and manufacturing industries.
Featured Product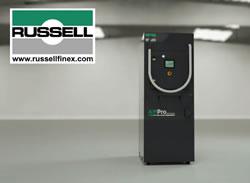 The Russell AMPro Sieve Station™ guarantees the quality of your additive manufacturing (AM) powder, and has been designed to provide optimum sieving efficiency, ensuring your powder is ready for use or reuse as and when you require it. With a simple one-button operation and mobile design, this automated check screener ensures your powder at every stage of the process is qualified for use quickly and safely. The flexibility of the Russell AMPro Sieve Station™ means you can use the system for numerous powder handling tasks - being a modular design ensures the machine can be configured to meet your exact requirements.