Redstack and Markforged partner to disrupt Australian manufacturing.
In recent years, 3D printers have enabled manufacturers to design and prototype new products quickly, enabling full production in only a few months. Markforgeds new 3D printers, however, take the time from design to actual production parts from weeks down to mere hours.

Markforged 3D Printers print parts using materials ranging from kevlar to carbon fibre - creating ultra-light, high-tensile products. Parts can be designed and produced within 24 hours that are stronger than 6061 Aluminium, commonly used in manufacturing today.
"Until now, 3D printing customers have been forced to trade-off between strength, time, and affordability. With the complete Industrial Series and new Metal X printer, these trade-offs no longer exist," said Michael Lachs, Redstack founder and Managing Director. "Agile manufacturers can now easily print same-day parts that optimize strength and affordability."
Traditional manufacturing focuses on simplifying shapes for mass production. Now, additive manufacturing available with Markforged 3D printers makes it possible to achieve custom, bespoke and personalized manufacturing.
"Manufacturers have always been seeking ways to make things quicker, easier, cheaper," Mr Lachs said. "We can now offer manufacturers a revolutionary answer to the growing expectation in Australia for customised products; a disruptive challenge to the current manufacturing approach."
CASE STUDY:
Companies like Stanley Black & Decker save between 34% and 48% on manufacturing costs and slashes part lead time by 69%. Printing single parts with Markforged is 12.5x cheaper and 20x faster than casting and machining.
OLD PROCESS
Fabrication Time: 14 days
Fabrication Costs: $355
MARKFORGED
Fabrication Time: 1.25 days
SAVINGS: 91%
Fabrication Costs: $7
SAVINGS: 98%
Decreed by some as a disruptive power in manufacturing not experienced since the industrial revolution, the Markforged 3D printers, now available in Australia through Redstack, are bringing the future of manufacturing into the Now.
For more information, call:1300 66 7263 or visit markforged.redstack.com.au
Featured Product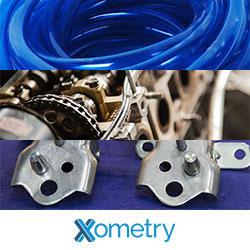 Xometry is your source for custom parts. Now, in addition to getting instant quotes on 3D Printing, CNC Machining, Sheet Metal, and Injection Molding, customers can create and send RFQs for die casting, stamping, and extrusion work to our nationwide network of pre-vetted manufacturers with just a 2D drawing. You will receive and be able to review responses from qualified shops within 7 days on an advanced web-based RFQ management platform. To learn more go directly to our site to issue and RFQ today. Stop wasting time managing RFQs through email and by phone, and start issuing RFQs at scale and in the cloud.