The MachineMetrics Industrial IoT manufacturing analytics platform, paired with Tsugami/Rem Sales Swiss-type machines will benefit end-user customers through improved production visibility, predictive analytics, and service.
Northampton, Mass. & Windsor, Conn.: May 9, 2018 - MachineMetrics and Tsugami/Rem Sales, LLC today announce their partnership to bring predictive manufacturing analytics and remote machine monitoring to customers across North America. The MachineMetrics Industrial IoT manufacturing analytics platform, paired with Tsugami/Rem Sales Swiss-type machines will benefit end-user customers through improved production visibility, predictive analytics, and service.

"For years now we have been working directly with manufacturers to improve manufacturing equipment uptime, OEE, and productivity with real-time machine monitoring and analytics," said Bill Bither, CEO of MachineMetrics, "By allowing machines to be monitored remotely and in real-time, we are enabling Tsugami/REM Sales to extend these benefits to their customer base while providing them with faster, better service. Our data science team is working closely with the data to deliver optimized preventative and predictive maintenance specific to Tsugami machines to improve machine uptime."
With the release of MachineMetrics Health for Equipment Manufacturers, any machine maker or distributor can improve their customer service by resolving machine problems without the necessity of an on-site visit. Service managers and technicians can remotely monitor, manage, diagnose and resolve customers machine issues for any piece of connected equipment in the field and in real-time using MachineMetrics cellular edge device. The historical and real-time machine data collected allows equipment manufacturers to gain insight into customers equipment health and condition, identify new service opportunities with analytics and reporting, predict and deliver early warning of potential equipment failures, highlight elevated risk areas that lead to machine downtime, or even determine to take preventative action before it impacts a customers machine performance.
With MachineMetrics: Remote Service, equipment manufacturers can transform their approach to service with the ability to see, understand and take action from anywhere at any time. Data from thousands of connected machines allow the MachineMetrics Data Science team to work with service teams to identify trends and develop standard preventative maintenance and repair schedules that benefit both the service team and the customers.
"Tsugami/Rem Sales is thrilled to partner with MachineMetrics, bringing cutting edge, disruptive technology directly into our end-users businesses," explained Michael Mugno, Vice President, Tsugami/Rem Sales. "The addition of MachineMetrics to our Swiss-turn machine platform packages allows users to collect data on machine health, production status, downtime, and so much more that they may never have known existed - bettering businesses across the industry."
About MachineMetrics
MachineMetrics (www.machinemetrics.com) has simplified Industrial IoT for the factory floor. The MachineMetrics predictive analytics and machine monitoring platform allows manufacturers to harness, structure, and take action on real-time data, driving manufacturing efficiency by more than 20%. Their user-friendly platform easily integrates into any modern or legacy machine to provide predictive analytics, real-time dashboards, and historical reporting, enabling managers to track OEE performance, identify production bottlenecks, take action with real-time notifications, measure process improvements, and enhance shop floor communications.
MachineMetrics was recently awarded "Smart Manufacturing Solution of the Year" by the committee at IoT Breakthrough, winner of the Massachusetts TechHub Caucus 2018 NEXTGEN Technology Award, as well as a Top 10 Manufacturing Intelligence Solution Provider for 2017 by Manufacturing Technology Insights.
About Tsugami/Rem Sales
Tsugami/Rem Sales (www.remsales.com) has been the exclusive North American importer of Precision Tsugami machine tools since 1978. A division of Morris Group, Inc. in Windsor, Connecticut, Rem Sales sells new Tsugami machine tools via national distribution channels and direct sales agents. Tsugami/Rem Sales also provides top of the line application engineering, service, and customer training.
Featured Product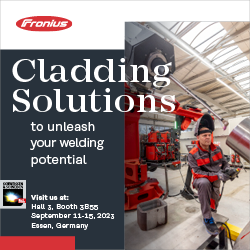 Ever since the invention of our "cold" MAG welding process Cold Metal Transfer (CMT), if not earlier, we have continuously achieved a technological edge in many welding-related areas, resulting in cutting-edge mechanized and automated welding systems. Advanced power source technology stabilizes the arc and ensures perfect welding results. Modern monitoring sensors optimize guidance of the welding torch and compensate for component tolerances. Last but not least, smart data documentation systems assist in perfecting the welding process. Collaborative systems, smart sensor technology, software solutions for data management, and offline programming including welding simulation open up profitable welding opportunities for metal processing companies starting with a single batch. That is why our robotic welding cells prove profitable not only for large companies, but also for small and medium-sized enterprises.