Eight individuals awarded the prestigious DINO (Distinguished INnovator Operator) for additive manufacturing expertise and service.
The Additive Manufacturing Users Group (AMUG) today announced the recipients of its prestigious DINO (Distinguished INnovator Operator) Award for additive manufacturing expertise and service. The awards were presented at the 30th annual users group conference held in St. Louis, Missouri.

During its annual Awards Banquet, AMUG presented eight DINO Awards that recognized industry veterans for years of experience, contributions to the additive manufacturing industry, and active support of the users group. The newly named DINOs are:
Andy Christensen, Somaden LLC
Rey Chu, PADT, Inc.
Douglas Greenwood, Fleet Readiness Center East
Steve Hanna, 3D Systems
Rick Pressley, Renaissance Services, Inc.
Andrew Sliwa, Custom Prototypes Inc.
Fried Vancraen, Materialise
Pat Warner, Renault Sport Formula One
Paul Bates, AMUG president, said, "There were many candidates that had the tenure suited for this coveted award. However, that is just one criteria. To be a DINO, one must also give back to the industry and support AMUG. These eight individuals rose above all others because of what they have done and what they have achieved."
The new DINOs have been advocates and early adopters of additive manufacturing in the medical, aerospace, motorsports and defense industries, amongst others. Their efforts behind the scenes and from the public stage have advanced the technology and the applications that leverage its capabilities. Through direct contributions and corporate support, all have had a hand in making the AMUG Conference a positive experience for those seeking insights and information.
Bates said, "The impact of these individuals on the additive manufacturing industry and on the success of the users group is awe-inspiring. It was my honor to share the stage with this incredible group of individuals that have worked towards a common cause—success with additive manufacturing."
Over its 30-year history, AMUG has awarded only 149 DINOs. Although there are many deserving of the recognition as a DINO, AMUG limits this prestigious award to no more than ten individuals each year.
ABOUT ADDITIVE MANUFACTURING USERS GROUP (AMUG)
AMUG is an organization that educates and advances the uses and applications of additive manufacturing technologies. AMUG members include those with industrial additive manufacturing/3D printing technologies used for professional purposes from companies such as Stratasys, DSM Additive Manufacturing, SLM Solutions, GE Additive, ExOne, Renishaw, HP Inc., 3D Systems, Carbon, EOS, Formlabs, Desktop Metal and Additive Industries. AMUG meets annually to provide education and training through technical presentations on processes and new technologies. This information addresses operation of additive manufacturing equipment and the applications that use the parts they make. Online at http://www.amug.com.
Featured Product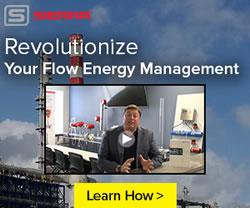 Sierra Instruments announces the launch of its new flow energy solution for managing and optimizing flow measurement for industrial facilities of all sizes. It features Sierra's QuadraTherm 640i/780i thermal flow meters, their InnovaMass 240i/241i vortex flow meters, and their new InnovaSonic 207i ultrasonic flow meter. Designed, built, and calibrated in the USA by Sierra, the Big-3TM share the same revolutionary Raptor firmware and many of the same software apps. They are a complete flow energy solution for flows like compressed air, natural gas, steam, and hot and chilled water. Together, they set a new standard in ease-of-purchase, performance, accuracy, reliability, and ease of use.