Introducing three new 3D printers at Rapid + TCT
FORT WORTH, Texas, April 24, 2018 /PRNewswire/ -- XYZprinting, the world leader in desktop 3D printing, today announced a significant portfolio expansion that is designed to extend its overall additive manufacturing leadership and presence in North America. In connection with this announcement, the company plans to debut three new professional 3D printers at Rapid+TCT.

"We are thrilled to bring into the North American market three new and affordable professional systems that already enjoy the strong support of several tier-one resellers who are ready to partner with us and accelerate overall market adaption," said Michele Marchesan, Senior Vice President of XYZprinting.
The company invites interested customers to apply for its early access program, and qualified resellers and end-users alike to visit XYZprinting booth #2142 at the Fort Worth Convention Center.
The PartPro350 xBC - High Productivity Full Color Binder Jetting Part Platform
The new PartPro350 xBC offers cutting-edge printhead technology that delivers industry-leading full color part productivity. With build size of 350x220x200mm and speeds up to 18mm per hour for a fully-loaded build volume, the PartPro350 xBC is 150% faster than other color binder technologies.
The PartPro350 xBC comes with a removable build tray module to allow users to print efficiently, as they can replace a new build tray directly into the machine to start a new print job immediately whilst the other can be removed, hence increasing speed and productivity.
PartPro350 xBC is affordable to own and operate with user prices starting at $29,900 for a base model. This new professional-grade printer is expected to be available in the fourth quarter of this year.
For more information about the new PartPro350 xBC, please visit:
https://pro.xyzprinting.com/landing-page/en-US/partpro350
The MfgPro230 xS - High Performance Printed Parts by Laser Sintering Technology with Lowest Cost of Ownership
XYZprinting is extending its reach from desktop printers to industrial grade systems with the announcement of its new MfgPro230 xS Laser Sintering System. The new MfgPro230 xS boasts a build volume of 230x230x230 cm, and is designed to meet the demanding requirements of aerospace, automotive, manufacturing and engineering companies' applications. With a base model priced at $60,000, and expected to be commercially available in the fourth quarter of 2018, the MfgPro230 xS produces precise, strong parts and is easy to own and operate.
The MfgPro 230 xS's open material platform makes it the ideal choice for on-demand-manufacturers or research institutions. Thanks to the high printing speed of up to 20 mm per hour and shorter cooling and breakout times, the MfgPro230 xS can deliver high-quality parts fast.
For more information about the new MfgPro230 xS, please visit: https://pro.xyzprinting.com/landing-page/en-US/mfgpro230_xs
The PartPro300 xT- Professional High Performance FFF printer with Dual Extrusion and Temperature Controlled Chamber
Extended from its world leading desktop FFF range, XYZprinting launches the professional FFF 3D printer PartPro300 xT. With enlarged build size of 300x300x300 mm, the high performance dual extruder allows for use of advanced materials like Carbon PLA, Nylon, Metallic, ASA, PETG, ABS, TPE, PLA and water-soluble support material. With two-3kg roll capacity extending the ease of use and change over intervals and a humidity-controlled system to ensure consistent material feed, PartPro300 xT is expected to be available to market in the fourth quarter of this year for professional users with user price around $5,500.
High temperature, high speed steel nozzles enable advanced material usage and high-quality results. The temperature-controlled chamber keeps the printing temperature constant for excellent performance on complex geometries. Advanced auto-leveling and calibration ensures high precision accurate parts.
For more information about the new PartPro300 xT, please visit:
https://pro.xyzprinting.com/en-US/product/partpro300-xt
Find out more about XYZprinting's professional range at
https://pro.xyzprinting.com/en-US/home
About XYZprinting
XYZprinting is a leading global provider of comprehensive 3D printing solutions. XYZprinting is the number one selling global brand in desktop 3D printing products and services since 2015 and is now moving decisively into the industrial additive manufacturing arena.
XYZprinting is backed by the world's leading electronic manufacturing conglomerate, New Kinpo Group, which earns more than $36 billion in revenues annually and has more than 8,500 engineers in research and development across four continents. With nearly two decades of design and manufacturing experience, New Kinpo Group is a recognized manufacturer of many of today's printers for both personal and commercial use. Read more about us at pro.xyzprinting.com
Featured Product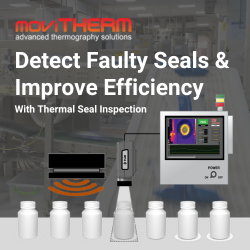 MoviTHERM's Thermal Seal Inspection (TSI) solution provides precise and reliable detection of defects in a variety of packaging types, including pouches, bags, blister packs, bottle caps, and more. By detecting defects in your packages, the TSI solution helps increase efficiency in your production line and ensures top-quality packaging is delivered to your customers every time. With state-of-the-art technology and an experienced team, MoviTHERM is dedicated to delivering accurate inspection solutions and peace of mind to its clients. Contact MoviTHERM today to learn more about their thermal seal inspection solution.