The Molex ValuSeal Wire-to-Wire Connector System is an IP65-rated, highly reliable sealed connector system.
Heilind Electronics, a leading global distributor of electronic components and Molex's largest authorized distributor in the Americas, has expanded its selection of interconnect solutions with the company's ValuSeal wire-to-wire connector system. ValuSeal connectors are designed to provide cost-effective, reliable and sealed performance -- all within a one-piece housing design. The compact pitch also enhances design flexibility in applications where space is severely limited.

ValuSeal wire-to-wire connectors include an integrated wire strain relief within the connector body to prevent overbending, wire failure and leak paths. Additionally, the connector's one-piece housing eliminates failures and issues associated with the use of unsealed interconnect systems in adverse conditions. ValuSeal connectors also prevent accidental unmating through a positive latch feature that ensures secure retention when the receptacle and plug are mated.
Not only is the ValuSeal connector capable of delivering 11.5 A of current, but its IP65-rated wire-and-ring seal makes it ideal for a variety of harsh environments suitable for consumer, industrial, non-automotive transportation, robotics and lighting applications.
Visit Heilind's website for more information about the Molex ValuSeal wire-to-wire connector system.
About Heilind Electronics
Heilind Electronics, Inc. (http://www.heilind.com) is one of the world's leading distributors of connectors, relays, sensors, switches, thermal management and circuit protection products, terminal blocks, wire and cable, wiring accessories and insulation and identification products. Founded in 1974, Heilind has locations throughout the U.S., Canada, Mexico, Brazil, Germany, Singapore, Hong Kong and China. Follow Heilind on Facebook at facebook.com/Heilind and on Twitter at twitter.com/Heilind.
Featured Product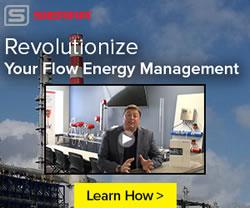 Sierra Instruments announces the launch of its new flow energy solution for managing and optimizing flow measurement for industrial facilities of all sizes. It features Sierra's QuadraTherm 640i/780i thermal flow meters, their InnovaMass 240i/241i vortex flow meters, and their new InnovaSonic 207i ultrasonic flow meter. Designed, built, and calibrated in the USA by Sierra, the Big-3TM share the same revolutionary Raptor firmware and many of the same software apps. They are a complete flow energy solution for flows like compressed air, natural gas, steam, and hot and chilled water. Together, they set a new standard in ease-of-purchase, performance, accuracy, reliability, and ease of use.