Application Engineering Team Gives End Users Power to Solve Problems
ATLANTA--(BUSINESS WIRE)--MODEX 2018 - ITC Manufacturing, the premier manufacturer of wire mesh products for the material handling industry, is proud to offer fully custom solutions for racking manufacturers and end-users to ensure a streamlined warehousing process. Some of these custom pieces that have helped solve end-user challenges can be seen in the ITC Manufacturing booth B3269 this week at MODEX 2018.

"ITCs core principle is to deliver exactly what is needed to solve a problem in the warehouse environment. We work with our customers face-to-face to fully understand the end-users application and how the rack system will be utilized," said Tyler Leintz, Director of Sales at ITC Manufacturing. "From there, ITCs team of designers engineer a solution based on the application and overall needs of the customer to deliver a solution that solves a problem and enables the end-user to maximize their investment."
When a customer approaches ITC on a project, the company devotes a great amount of time gathering information and conducting site visits, if necessary, to determine exactly what will be stored in the racking system and what the need entails to ensure the best solution. Working together on each project and ensuring customer satisfaction is what makes ITC a true partner with customers.
ITC Manufacturing is a leader in the material handling industry providing wire mesh products to support the worlds shipping and warehousing network. With plant locations in Phoenix, Arizona and Columbus, Ohio, ITC Manufacturing continues to invest in new technology and operates the most automated wire mesh welding plants in the United States serving all of North America, Mexico and Canada.
ABOUT INTERNATIONAL TECHNICAL COATINGS ("ITC")
Headquartered in Phoenix, Arizona, International Technical Coatings (www.itcmfg.com) is the premier manufacturer of wire mesh products for the material handling and storage products industries. As one of the largest wire and steel fabricators in the United States, ITC manufactures a wide range of wire product including heavy and light duty wire mesh decking, dividers and flue spacers, gridwall/slatwall, POP displays, industrial and specialty drawn wire, custom wire and steel products, mine mesh, re-enforcing mesh, security fencing and roll formed products. In addition, ITC offers value-added services such as product design and engineering to meet the needs of distributors, mass merchants, retailers, archive storage providers, OEMs and third-party logistics providers.
Featured Product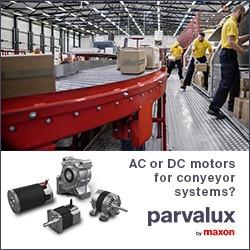 British-made Parvalux geared motors are used in a huge range of industrial applications in almost 80 countries. We manufacture conveyor belt motors, automatic shutter motors, packaging motors and much more. When you need reliable operation, you can trust Parvalux to safely power your application.