GAMS kicks off with a networking luncheon and keynote address followed by four educational sessions led by top industry experts.
Chicago - HANNOVER MESSE USA, the rebranded North American industrial technology trade shows co-located at IMTS 2018, will feature the fourth Global Automation & Manufacturing Summit (GAMS) as part of events co-located with IMTS 2018. Discussions during the one-day conference on Wednesday, September 12 will focus on cybersecurity, maintenance and robotics. GAMS kicks off with a networking luncheon and keynote address followed by four educational sessions led by top industry experts.

"GAMS 2018 will bring together leaders in the industrial technology field to showcase how to adopt robotics and security standards in the plant," said Adrienne Zepeda, Show Manager of North American Industrial Technology Events at Hannover Fairs USA, co-organizer of the event with CFE Media. "We know that this years dynamic range of speakers will provide valuable insight about cutting edge strategies across each of these forward-looking topics," added Zepeda.
The line-up of topics and presenters scheduled to appear at GAMS include:
• Cybersecurity: How far do we need to go? This session will focus on the common-sense ways manufacturers can secure their data and their operational integrity. The presentation will be led by Dr. Richard Soley, chairman of the Industrial Internet Consortium, chairman and chief executive officer of Object Management Group (OMG) and executive director of the Cloud Standards Customer Council.
• Embrace your robot: A guide to the future: Experts will discuss the practical ways robots can enhance manufacturing—and all the ways humans are still vital to the operation. The Robotics Institute of America (RIA) will lead the panel discussion.
• IIoT in discrete manufacturing: Managing the process: A panel of industry experts will discuss how to get the most out of IIoT, and how to use data to improve operations, supply chain, and safety. The presentation will be led by Sal Spada, research director for discrete manufacturing for ARC Advisory Group.
• Maintenance and IIoT: Follow the numbers: A panel of industry experts will discuss how more sophisticated analytics are helping maintenance teams focus on the right data at the right time. The discussion will focus on how this strategy can lead to more uptime and better safety. The panel will be led by Aurelio Banda, CEO of Beckhoff USA, which is the GAMS 2018 sponsor.
"The discussions around cybersecurity, maintenance and robotics will empower our attendees to implement the latest Industrial Internet of Things best practices in this rapidly evolving manufacturing landscape," said Larry Turner, president/CEO of Hannover Fairs USA, a subsidiary of Deutsche Messe, the organizer of HANNOVER MESSE.
For additional information, visit Global Automation & Manufacturing Summit.
About HANNOVER MESSE USA
HANNOVER MESSE USA will be produced alongside IMTS 2018 from September 10-15 at McCormick Place in Chicago. HANNOVER MESSE, the worlds leading industrial technology show launched 70 years ago in Hannover, and HANNOVER MESSE USA are at the forefront of showcasing innovations in the factory of the future: cobots, industrial energy systems, Industrial Internet of Things (IIoT), Industry 4.0 and related applications such as predictive maintenance, more efficient use of raw materials, faster time to market, and other trends in industrial manufacturing.
About Hannover Fairs USA
Hannover Fairs USA, Inc. (HFUSA) is the U.S. subsidiary of Hannover, Germanys Deutsche Messe - one of the worlds largest and most active organizers of industrial technology events. Chicago, Illinois-based HFUSA helps U.S. companies expand domestically and internationally through exhibit and sponsorship opportunities at Deutsche Messes worldwide portfolio of events. Participation in these events offers U.S. companies an unparalleled opportunity for business development through trade shows and conferences held in Hannover, Germany and North America, as well as in key markets such as China, India, Mexico and Turkey. HFUSA creates qualified new business leads, helps U.S. companies enter new markets and aids them in forming lasting partnerships.
Featured Product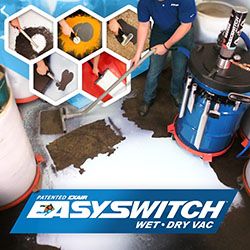 Safety Air Guns use engineered air nozzles for high performance, entraining lg volumes of surrounding air. Safe operation, low air consumption and noise levels. Check out VariBlast Compact, VariBlast Precision, Soft Grip, Heavy Duty and more. https://184_sagpromo_prod