Dorner's 2200 Series Precision Move Pallet Systems are now available with new features including heavy load corners, tight turn corners, low-profile lift and locates, elevators and more.
HARTLAND, Wis., (January 23, 2018) — Dorner's 2200 Series Precision Move Pallet Systems are now available with new features including heavy load corners, tight turn corners, low-profile lift and locates, elevators and more.

The new heavy load corner design allows the conveyor to carry pallet loads up to 70 pounds around 90° or 180° corners, effectively providing loop capacity for larger, heavier pallets. Additionally, pallets can be accumulated in the corner, an advantage not typically seen in most corner systems. Pallet widths have also been expanded to 640 x 640 mm to handle heavier loads.
The new tight transfer 180° corner creates a loop with only 135mm between main run conveyors. This cost-effective option uses the Dorner Pin Tracking system, that eliminates the need for other transfer devices while maintaining pallet orientation through the loop.
The new low-profile lift and locate is ideal for operator stations, as the feature lifts the pallet off the conveyor and locates it within +/- 0.015". The compact and safe device protrudes beyond the main conveyor only 1", saving valuable space for operators or other equipment.
A versatile addition to the product line is the new Dorner Precision Move elevator, which uses dual-sided timing belt conveyor technology to effectively raise and lower pallets for over/under pallet applications. Dual sided support provides an improved method of transport for wider pallet applications. Elevators are capable of transport heights from 18" to 120" top of belt.
Designing a 2200 Series Precision Move Pallet System has never been easier with the addition to DTools, Dorner's online conveyor configurator. Configure simple or complex systems in minutes, complete with 2D and 3D CAD drawings and other functions. DTools gives customers the design tools needed to fully configure their belt conveyor systems.
Dorner's 2200 Precision Move Pallet System originally launched in 2015. With a unique pin tracking system to guide pallets through 90° turns, and a fast belt change capability without the need to remove the conveyor from the system, Dorner's 2200 Precision Move Pallet Systems are designed to increase efficiency and reduce downtime in various assembly automation processes. Coupled with fast delivery of less than 20 days, and Clean Room Class 100 Certification, this conveyor platform is perfect for the manual and automated assembly automation, manufacturing and packaging industries.
For more information on the 2200 Series Precision Move Pallet System conveyor, visit www.dornerconveyors.com.
Connect with Dorner on Facebook at www.facebook.com/dornerconveyors
Follow Dorner on Twitter at www.twitter.com/dornerconveyors
Subscribe to Dorner on YouTube at https://www.youtube.com/user/DornerConveyors
Follow Dorner on LinkedIn at www.linkedin.com/company/dorner-mfg-corp
###
Hartland, Wisconsin-based Dorner Mfg. Corp. is a world leader in the design, manufacture and distribution of high-quality conveyors and related equipment. Since 1966, companies from around the world have turned to Dorner conveyors for greatly improved efficiency and productivity. For more information about products or company news, visit Dorner's Web site at www.dornerconveyors.com or call 1-800-397-8664.
Featured Product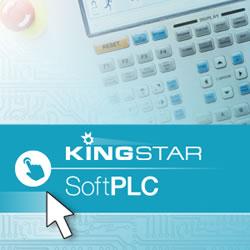 The top machine builders are switching from proprietary hardware-based PLCs, like Allen-Bradley, TwinCAT, Mitsubishi and KEYENCE, to open standards-based EtherCAT-enabled software PLCs on IPCs. KINGSTAR provides a fully-featured and integrated software PLC based on an open and accessible RTOS. KINGSTAR Soft PLC also includes add-on or third-party components for motion control and machine vision that are managed by a rich user interface for C++ programmers and non-developers alike.