With its more modern look and feel, the new logo design better conveys the current and future direction of the FABTECH brand.
CHICAGO, Nov. 9, 2017 /PRNewswire-USNewswire/ -- Today, the five FABTECH co-sponsors unveiled a new logo and brand identity for the FABTECH series of events. FABTECH represents the leading events in North America exclusively focused on advancing the metal forming, fabricating, welding and finishing industries.

The industry is evolving and the new logo reflects the innovation and emerging manufacturing technologies showcased at FABTECH. With its more modern look and feel, the new logo design better conveys the current and future direction of the FABTECH brand.
"The manufacturing industry is entering a new age and experiencing an industrial revolution that is changing the way we manufacture," said John Catalano, FABTECH show co-manager and SME senior director. "And in the midst of this, FABTECH is also evolving to stay at the leading edge of the industry. We are excited to launch a new logo that demonstrates the evolution of the FABTECH brand."
"While we usher in a new visual identity, FABTECH remains committed to delivering a high-quality, innovative event experience," added Mark Hoper, FABTECH show co-manager and FMA senior vice president of media and expositions. "The show will continue to meet the demands of the industry and showcase not only what's new, but what's next."
Evidence of FABTECH's embrace of innovation is on display in Chicago this week with a new pavilion dedicated to the advanced technology of additive manufacturing as well as expert panels and education sessions on the future of manufacturing, including smart manufacturing, the Industrial Internet of Things, Industry 4.0, automation and more.
The new logo mark and simple letter structure offers a more relevant, forward-thinking image, while still honoring and preserving FABTECH's rich history.
The new logo is the first piece of a strategic branding initiative to bring a consistent, cohesive and contemporary look and feel to all FABTECH events. The evolved brand identity will be rolled out for all FABTECH events, communications and other publications throughout the next year.
About FABTECH
FABTECH is North America's largest collaboration of technology, equipment and knowledge in the metal forming, fabricating, welding and finishing industries. The event provides a powerfully aligned hands-on, face-to-face business growth experience. FABTECH is held annually in the U.S., rotating between Las Vegas, Chicago and Atlanta. FABTECH Mexico also occurs annually rotating between Mexico City and Monterrey and FABTECH Canada occurs biennially in Toronto. These events are made possible by FABTECH's five co-sponsors, all of whom represent the varied and diverse makeup of the manufacturing industry. They include the American Welding Society, the Fabricators & Manufacturers Association International, the Precision Metalforming Association, Chemical Coaters Association International and SME.
Featured Product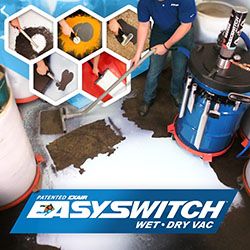 Be sure to attend the latest of EXAIR's webinars. Get educated on pneumatic industrial vacuums so you can break the cycle of replacing electric shop vacuums. Industrial environments often present a continual battle to keep them clean and safe. Unavoidable by-products of manufacturing processes include liquid and solids which often present hazards to personnel, products and processes. Solids may be trim, dusts, or chips from a manufacturing line; liquids may be coolant spills, coating overspray, or even burst packages. Cleaning up these materials often falls on the operators of the equipment who need reliable, adaptable, safe and effective tools for cleanup. Supplying them with tools which fail frequently or do not meet the requirements of the safety team is a recipe for disaster. Attend this webinar to gain an understanding of how pneumatic vacuums can reduce the maintenance, increase reliability, and improve flexibility for your facility. Attend live on May 24th at 2 p.m.