As part of company's software strategy, new feature allows users to effectively manage multiple printers in professional environments
CAMBRIDGE, Mass., Nov. 7, 2017 — (PRNewswire) — Leading 3D printer manufacturer Ultimaker today announced the availability of Cura Connect within Ultimaker Cura, the seamless print management software solution that helps to prepare files for digital fabrication. New functionality within Ultimaker Cura enables users to manage an array of Ultimaker 3D printers, creating an accessible solution for prototyping, tooling and small-scale production. Cura Connect is now available for free through a firmware update and allows users to immediately take advantage of optimizing output from Ultimaker 3 printers, saving time and maximizing efficiency.

Cura Connect is especially useful for organizations that use the Ultimaker 3 for prototyping and small-scale production and need an overview of pending print jobs in one intuitive interface. Cura Connect's networking capabilities allow users to select and group printers, queue jobs, monitor prints, and strategically schedule maintenance operations. Notifications alert users whenever a printer needs attention. Additionally, the software auto-recognizes which printers have Ultimaker materials and configures accordingly.
The user experience of Cura Connect is optimized for group sizes of one to 15 people sharing one to five printers, but because of its flexibility and scalability, it is suitable for various environments, from a small office to a large enterprise. The software's grouping of printers and centralized queuing functionality dramatically improves throughput and production planning which results in reliable, more informed manufacturing.
Paul Heiden, Senior Vice President Product Management: "Making professional 3D printing accessible, that's what we are working on everyday at Ultimaker. By continuously developing our hardware, software, materials and services we are making 3D printing a hassle-free solution in any office or workshop. A lot was invested in user research to make sure that Cura Connect fits our users' needs exactly. We are positive that Cura Connect gives businesses a competitive edge with a reduced time to market, cutting costs, and an improved product life cycle with faster iterative prototyping, ability to customize and efficient spare part delivery."
About Ultimaker
Ultimaker has been in operation since 2011, and over the years has grown to become a market-leader; creating powerful, professional and accessible desktop 3D printers. With offices in the Netherlands, New York, and Boston, plus production facilities in Europe and the US, Ultimaker's team of over 300 employees continually strives to offer the highest-quality 3D printers, software, and materials on the market.
Featured Product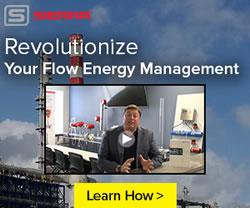 Sierra Instruments announces the launch of its new flow energy solution for managing and optimizing flow measurement for industrial facilities of all sizes. It features Sierra's QuadraTherm 640i/780i thermal flow meters, their InnovaMass 240i/241i vortex flow meters, and their new InnovaSonic 207i ultrasonic flow meter. Designed, built, and calibrated in the USA by Sierra, the Big-3TM share the same revolutionary Raptor firmware and many of the same software apps. They are a complete flow energy solution for flows like compressed air, natural gas, steam, and hot and chilled water. Together, they set a new standard in ease-of-purchase, performance, accuracy, reliability, and ease of use.