RIDC's long-time tenant, Intervala, signs a five-year lease with a five-year extension for retrofitted space at Keystone Commons.
PITTSBURGH, PA - The Regional Industrial Development Corporation of Southwestern Pennsylvania (RIDC) announced that Intervala has signed a five-year lease with a five-year extension at Keystone Commons in Turtle Creek. Intervala now occupies three floors of the S Building on 700 Braddock Avenue, amounting to 135,000 square feet of space in the former Westinghouse industrial facility. RIDC has retrofitted the space and made upgrades to the property, including windows, parking facilities and other improvements.

"RIDC has done a great job supporting our companys needs. They took an old building from 1954 and created a comfortable, professional environment that has helped us attract new customers, suppliers and employees," said Scott Gustafson, COO of Intervala. "Its a clean, welcoming space with lots of natural lighting. At Intervala, attention to details and quality are paramount, and RIDC has made sure that the space we occupy is a reflection of those priorities."
Intervala, a high-tech electronics manufacturing company, serves clients in the industrial, medical, and transportation fields. It and its predecessor companies have operated at Keystone Commons since 1996. Intervala has grown significantly over the years it has been at Keystone Commons and now employs 211 people.
"We redeveloped Keystone Commons with the goal of creating a world-class, multiuse, urban industrial center that stimulates economic growth in the region," said Donald Smith, President of RIDC. "Companies like Intervala are the drivers of our economic future. We are proud to provide homes that support their growth."
About Intervala
Intervala provides customized, intelligent solutions for their customers complex electronic and electromechanical manufacturing requirements. Consistent quality, reliability, innovation and collaboration are their watchwords, and they excel at delivering products that must perform reliably in harsh applications or in strict environments. More information is available at www.intervala.com.
About RIDC
The mission of the Regional Industrial Development Corporation of Southwestern Pennsylvania is to catalyze and support economic growth and high-quality job creation through real estate development and finance of projects that advance the public interest. A not-for-profit entity, RIDC owns over 2,800 acres of land in 11 industrial parks and manages over 50 buildings. More information is available at www.ridc.org.
###
Featured Product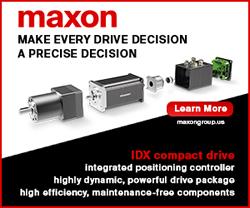 maxon motor launches new high-speed motors that are configurable online. The new ECX brushless motors are quiet and feature very high efficiency. The ECX motors are available with diameters of 8, 16 and 19 mm achieving speeds of up to 120,000 rpm. They run very smoothly and are highly efficient. With maxon motor's online configurator, it is easy to put together a customized DC motor to include gearhead, encoder and controller. The customized motors are ready to ship in 11 days!