The digital-pneumatic VTEM Motion Terminal lowers supply chain costs, brings new machines and products to market faster, and fundamentally changes the pneumatic-motion-control paradigm. (Festo Assembly 2017 Booth # 931) An Overview of the VTEM Motion Terminal
Festo Features at Assembly 2017, Rosemont, IIL., October 24-26, the VTEM Motion Terminal, the worlds first cyber-physical pneumatic-motion-control system. The VTEMs first-of-its-kind digital valves change functionality based on various combinations of downloadable motion apps and conforms to the National Science Foundations definition of a cyber-physical system (CPS) as engineered systems that are built from, and depend upon, the seamless integration of computational algorithms and physical components. Festo is one of the worlds leading automation suppliers in manufacturing and processing. (Festo Assembly 2017 Booth # 931)

The capabilities of the VTEM Motion Terminal enable:
Higher machine utilization
Better energy efficiency
Greater flexibility
Faster time to market for both machine builders and end users
A reduction in the number of components to purchase, install, and maintain
The VTEM platform is modular and reconfigurable - thereby meeting two important criteria for Industry 4.0 and Industrial Internet of Things (IIoT)-based systems. The platform was designed for environments that gain a competitive advantage through:
Manufacture of short-lifecycle products
Efficient production of many stock keeping units (SKUs)
Small-lot-size production
The components of the VTEM Motion Terminal include digitally controlled flexible valves, an integrated processor, Ethernet communications, electrical inputs for fast control of specific analog and digital applications, and integrated pressure, stroke, and temperature sensors for data analysis. The VTEM Motion Terminal, in development for three years, will be sold in either four-valve or eight-valve platforms. Product shipments will commence December 2017.
Ten motion apps are in the initial release with an additional 40 planned. Each app makes parameterization of a function faster and easier than current systems. The apps in the first release provide the following functionalities:
Directional control simulating the functions of the most utilized valves
Proportional directional control valve
Soft stop
Proportional pressure regulation
Model-based proportional pressure regulation
Eco drive
Selectable pressure level
Leakage diagnostics
Supply and exhaust air flow control
Presetting travel time
"The VTEM is more than a one-to-one substitution of physical for cyber-based control," said Sandro Quintero, Product Manager - Valve Terminals & Electronics for Festo. "The VTEM Motion Terminals capabilities cost effectively move pneumatics into areas now served by servo pneumatics and servo electrics. The integration of sensor technology within the digital valves takes system monitoring and machine utilization to a higher level. Revolutionary correctly defines the VTEM Motion Terminal." Quintero will present, "Digitalization and the Future of Intelligent Pneumatics," at 1 p.m. on Wednesday October 25 Learning Track 1 meeting rooms.
Festo will also display a full complement of pneumatic and electric motion solutions for the assembly industry, including safety valves, grippers, actuators, servo controlled systems, and IO-Link. Dont miss the Festo Booth # 931. Visit a new section on the Festo website devoted to digital pneumatics. Festo invites attendees to Pub Night 5-7 p.m. on Wednesday, October 25 for food, drinks, gaming, and virtual reality.
###
About Festo
Festo is a leading manufacturer of pneumatic and electromechanical systems, components, and controls for process and industrial automation. For more than 40 years, Festo Corporation has continuously elevated the state of manufacturing with innovations and optimized motion control solutions that deliver higher performing, more profitable automated manufacturing and processing equipment.
Featured Product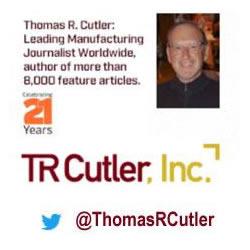 Cutler has authored more than 7000 articles for a wide range of manufacturing periodicals, industrial publications, and business journals including most of the leading monthly trade publications.