ENTERPRISE ASSET INTELLIGENCE PLATFORM UNLOCKS DATA FROM CONNECTED DEVICES, ENVIRONMENTS AND THINGS TO TRANSFORM WORKFLOWS AND MOBILIZE ACTIONABLE INSIGHTS
CHICAGO - Sept. 26, 2017 - Zebra Technologies Corporation (NASDAQ: ZBRA), the market leader in rugged mobile computers, barcode scanners and barcode printers enhanced with software and services to enable real-time visibility, today announced Savanna™, a fundamental building-block platform for accelerating Enterprise Asset Intelligence and the digital transformation of enterprise operations for Zebra's customers and partners.

With the continued adoption of mobility and the Internet of Things (IoT), the edge of enterprise operations are becoming increasingly connected. This unprecedented, growing level of connectivity is generating vast amounts of actionable data about processes and assets that can be leveraged to transform workflows to improve business performance and outcomes. Savanna provides a means for Zebra, its partners and customers to build applications that make use of this edge data in near real-time to mobilize insight and actions that deliver new levels of service, productivity and profitability.
KEY FACTS
Savanna is comprised of IoT end-point connectivity, configuration management, data transport, data storage, analytics and machine learning components.
With enhanced and secure device connectivity, Savanna gives organizations the power to gain insights at the edge of its operations - ensuring the right data is available to the right people at the right time, giving them the power and informed intelligence to make the best decisions.
As an open, centralized data platform designed to empower enterprise applications, Savanna will power Zebra® data-driven solutions along with applications and solutions built by Zebra partners.
Zebra has also launched a Savanna platform early adopter program, selecting five partners to facilitate the development of vertically-oriented applications using edge data and associated insights from Savanna. Savanna's APIs and developer tools allow an ecosystem of partners to quickly, easily and cost-effectively create secure applications that integrate into other platforms and traditional enterprise resource planning (ERP) systems.
The partners selected globally are: Baidu Cloud, The Descartes Systems Group Inc., Problem Solutions, LLC, Reflexis Systems, Inc. and StayLinked Corporation.
Today, Savanna powers the data analytics and visualization behind some of Zebra's Enterprise Asset Intelligence (EAI) solutions that are helping retailers, transportation carriers, manufacturers, hospitals and sports teams become more intelligent enterprises, including:
Asset Visibility Service (AVS)/Operational Visibility Service (OVS) gives customers and partners important insights and visibility into the health, usage and performance of their Zebra devices to help optimize business operations;
SmartLens™ for Retail turns an entire store into a "smart store" that automatically senses and records the location and movement of virtually everything in the store, allowing data to become actionable intelligence; and
SmartPack™ Trailer creates the most intelligent loading environments in the world by providing real-time visibility into loading processes to increase efficiency, allowing support for higher delivery volumes.
SUPPORTING QUOTES
Tom Bianculli, Chief Technology Officer, Zebra
"Savanna delivers on Zebra's promise of Enterprise Asset Intelligence by empowering businesses to dynamically mobilize the right information and actions to the right workers in near real-time, reducing workflow friction and optimizing operational efficiency. We look forward to working closely with our early adopter program partners to deliver Savanna-powered applications as we bring the power of sensing, data, real-time analytics, applications and mobility together to enable the next wave of enterprise productivity and business models."
Sundar Ranganathan, Chief Technology Officer, Reflexis Systems
"The versatility of Zebra's Savanna data platform, coupled with our real-time applications, will drive efficiency and profitability in the next generation of enterprise retail solutions. Reflexis' approach to real-time transformation of the retail enterprise, connected with Zebra's commitment to digital transformation in the enterprise, is a powerful combination for our joint customers."
# # #
About Zebra
With the unparalleled operational visibility Zebra (NASDAQ: ZBRA) provides, enterprises become as smart and connected as the world we live in. Real-time information - gleaned from visionary solutions including hardware, software and services - gives organizations the competitive edge they need to simplify operations, know more about their businesses and customers, and empower their mobile workers to succeed in today's data-centric world. For more information, visit www.zebra.com or sign up for our news alerts. Follow us on LinkedIn, Twitter and Facebook.
Featured Product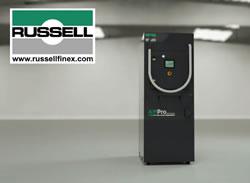 The Russell AMPro Sieve Station™ guarantees the quality of your additive manufacturing (AM) powder, and has been designed to provide optimum sieving efficiency, ensuring your powder is ready for use or reuse as and when you require it. With a simple one-button operation and mobile design, this automated check screener ensures your powder at every stage of the process is qualified for use quickly and safely. The flexibility of the Russell AMPro Sieve Station™ means you can use the system for numerous powder handling tasks - being a modular design ensures the machine can be configured to meet your exact requirements.