Established engineering software developer LimitState will launch Version 3.1 of its innovative design optimization tool LimitState:FORM at the forthcoming TCT Show 2017, Stand A39
SEP 22, 2017 - Established engineering software developer LimitState will launch Version 3.1 of its innovative design optimization tool LimitState:FORM at the forthcoming TCT Show 2017, Stand A39.

LimitState:FORM significantly reduces the time and effort needed to design strong and light truss forms for components and structures. The new version includes a number of new features and enhancements including:
The ability to specify in advance the desired simplicity of an optimized component form, e.g. the target maximum number of members meeting at a joint.
Enhanced editing capability: new algorithms mean that users can now much more freely interact with an initially optimized component, adding and/or removing members to customize their design as necessary.
Dr Tom Pritchard, Principal Engineer at LimitState, will showcase the technology at 14:10 on 27 September on the TCT Product Stage, explaining how the layout optimization technology employed by LimitState:FORM can reduce the time required to optimize components from hours or days to a matter of minutes. He we will also demonstrate how LimitState:FORM can be used as a plugin to ANSYS Discovery Live, a recently announced real-time simulation tool which allows engineers to immediately see the influence of CAD edits on stresses and/or flow dynamics. He will explain why this provides a potent combination for the designers of additively manufactured components.
"Designers wishing to take full advantage of the design freedom associated with additive manufacturing have been held back by software, but this is now changing. At LimitState our focus is on empowering designers to develop more intelligent designs, in as short as possible time.", says Matthew Gilbert, Managing Director at LimitState.
About LimitState:FORM
LimitState:FORM is a powerful software application for engineers who want to quickly design strong and light components and structures. The software is the ideal tool for exploiting the design freedoms associated with additive manufacturing. It automatically identifies minimum-weight truss designs for specified material stress or deflection limits, generating highly efficient structural forms. LimitState:FORM generates high-level CAD geometries rather than low-level meshes, so that solutions can be immediately edited - a unique capability among current-generation optimization tools. LimitState:FORM addresses a critical need for fast, effective workflow for design engineers targeting additive manufacture.
About LimitState
LimitState was established in 2006 as an engineering software house specializing in embedding cutting-edge optimization techniques in engineering analysis and design software. With a track record of delivering class-leading software products, our tools are used by many of the world's largest and most innovative engineering firms, in over 30 countries globally. In the field of additive manufacturing the company also develops the LimitState:FIX product which makes industrial strength mesh fixing technology available to a wide audience.
Visit: www.limitstate3d.com
About TCT
The TCT Show is the UKs annual showcase of 3D technologies for product development, manufacturing and engineering. Taking place for the 22nd time, the event features a host of world-class speakers, global technology releases and multiple European and UK debuts for new 3D technologies and their applications. The TCT Show attracts manufacturers, designers, business leaders, early adopters, innovators and investors to an event known worldwide for being a place where they can see tomorrows manufacturing technology today.
Visit: www.tctshow.com
Featured Product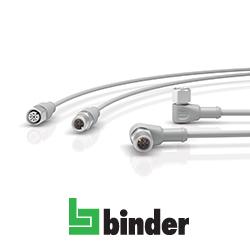 binder USA, LP, has expanded the M12 product family with the addition of the M12 A-Coded Connector, which is now certified for both Ecolab and FDA Code of Federal Regulations (CFR) Title 21 standards. The M12 A-Coded connectors are extraordinarily durable and IP69K-rated, ideal for harsh-duty and washdown applications in the food and beverage, pharmaceutical, and chemical industries. Available in 3, 4, 5, 8, and 12 contacts, the high quality stainless steel locking rings (V4A) and gold contact plating can also withstand UV exposure and shock and vibration.