The new design tool allows users to design and create gripper fingers that are customized to their part.
SCHUNK has introduced its web-based 3D design tool; eGrip. The new design tool allows users to design and create gripper fingers that are customized to their part. eGrip works in a 3D environment and allows the user to orient the part, choose the gripper model and specify the finger material during the design process. Once the design is complete the fingers will be made by Additive Manufacturing and delivered in days rather than weeks. The advantage for designers is the online interface which creates fingers that match the part exactly and quick delivery.

Uploading the workpiece data as a STEP or STL file is all that is needed for eGRIP to determine individual gripper fingers with optimal 3D contour. Alongside the already available polyamide 12 (PA 2200 or 2201) material, users can also choose aluminum (AlSi10Mg) and stainless steel (1.4404). Using a volume-based price model, SCHUNK can pass on the cost benefits of additive manufacturing to the consumer: the smaller the finger, the lower the price.
To reduce the weight at the tool center point, the aluminum and stainless steel fingers have an integrated hollow or grid structure that is standard. Compared to conventionally manufactured gripper fingers, this allows weight savings between 10 and 50 percent. This effect is clearly noticeable with stainless steel in particular. In the new version, SCHUNK has provided the order process with all sorts of variants: If you don't want to order the gripper fingers immediately, you can recall the automatically saved offer at a later time using the configuration number or you can request it by email to submit it to purchasing at a later time. The external contour of the generated modules, consisting of gripper, top jaws and workpiece, can also be downloaded free of charge as an STL file and directly used for the construction of the system. Follow-up orders are just as easy: Any orders that are made can be brought up again or adjusted at any time.
About SCHUNK
SCHUNK is a German family-owned company and global player in one. More than 2,500 employees in 8 plants and 30 directly owned subsidiaries and distribution partners in more than 50 countries throughout the world ensure an intensive market presence. SCHUNK designs and manufactures an unmatched selection of clamping technology and gripping systems. www.us.schunk.com
Featured Product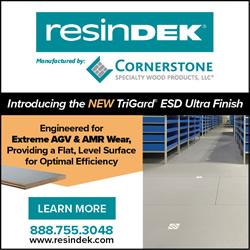 ResinDek flooring panels are designed for elevated platforms such as mezzanines, pick modules, and work platforms. They have the proven structural integrity to support dynamic and static rolling limits from 2,000 to 8,000 lbs. ResinDek flooring panels are available in a multitude of options that are customized for load capacities, required finish type, volume and type of traffic including heavy rolling pallet jack loads and robotic traffic with AGVs and AMRs.