Plethora, a smart manufacturing company based in San Francisco, launched their custom software that gives users instant design for manufacturing (DFM) feedback directly inside their preferred CAD program. Now, users are able to see the cost of design changes while they make adjustments to their 3D models.
SAN FRANCISCO, Calif. (July 13, 2017) -- San Francisco manufacturing startup Plethora launches custom software that provides real-time design feedback and instant quotes from within CAD software. Plethora's software is the first of its kind to bridge the gap between professional CAD software and machine shop. In one seamless workflow, Plethora's automated manufacturing processes enable users to submit a 3D model and have it CNC machined in only a few days.

Plethora users receive instant design for manufacturing (DFM) feedback directly inside their preferred CAD program. Users are able to see the cost of design changes while they make adjustments to their 3D models. With real-time feedback, engineers can catch design errors early on before having to make major changes to previously submitted parts.
In addition to helping CAD users better design their parts, Plethora's CAD add-in provides pricing and lead times instantly. After a date is selected and the order is submitted, the parts are machined in-house at Plethora's San Francisco factory. Plethora enables customers to take a 3D concept and have it manufactured in a single interface. With Plethora's automated workflow, customers receive their custom parts on-time and in-spec.
"Along with building a software solution to better integrate and streamline the design and manufacturing processes, we decided to build our own factory," said Nick Pinkston, Plethora co-founder and CEO. "By controlling every step of the process, we're better able to optimize the entire process to ensure the best experience for our customers."
Plethora deeply changes how designers and engineers imagine the manufacturing workflow: from designing their parts and receiving pricing to ordering custom parts from a machine shop. By integrating software automation into the manufacturing process, Plethora is able to maximize efficiency and guarantee quality and timing.
Plethora works with an array of customers that ranges from high-growth hardware startups to Fortune 500 companies. In addition to their CAD software, their factory uses software to automatically machine the submitted 3D designs. With a more transparent and efficient manufacturing process, now, engineers can focus on the quality of their parts and getting their product to market. With more time, engineers can design, test and iterate more frequently to ultimately produce better products.
About Plethora:
Based in San Francisco, Plethora machines custom low-volume parts with quick turnaround times. Plethora's software eliminates the inefficiencies between design and manufacturing with custom software that works directly within Autodesk Inventor, SOLIDWORKS and NX for Design. After providing instant pricing and manufacturability feedback, Plethora's platform allows designers and engineers to order parts directly from the software to have them machined at Plethora's in-house factory in San Francisco.
Featured Product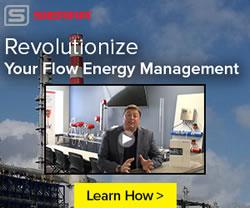 Sierra Instruments announces the launch of its new flow energy solution for managing and optimizing flow measurement for industrial facilities of all sizes. It features Sierra's QuadraTherm 640i/780i thermal flow meters, their InnovaMass 240i/241i vortex flow meters, and their new InnovaSonic 207i ultrasonic flow meter. Designed, built, and calibrated in the USA by Sierra, the Big-3TM share the same revolutionary Raptor firmware and many of the same software apps. They are a complete flow energy solution for flows like compressed air, natural gas, steam, and hot and chilled water. Together, they set a new standard in ease-of-purchase, performance, accuracy, reliability, and ease of use.