A technology conference highlighting the importance of security and analytics
Middletown, Pa. - With more data available than ever before, and malware attacks increasing in frequency and impact, effective security and analytics are becoming more urgent. Phoenix Contact will host a one-day technology conference at their U.S. headquarters near Harrisburg, Pa. on Tuesday, August 8, to address the latest Industrial Internet of Things (IIoT) developments.

Technology experts in infrastructure, building automation, and cybersecurity will deliver a variety of informative seminars about updates in the fast-changing industry. Jim Bland, Vice President and General Manager of Tridium at Honeywell Building Technologies, will present the keynote address on "IIoT Directions and Trends."
What: "Harnessing IIoT data to maximize operational efficiency":
An IIoT technology conference
Where: Phoenix Contact USA headquarters
586 Fulling Mill Road
Middletown, PA 17057
When: Tuesday, August 8
8:30 a.m. - 4:30 p.m.
Info and registration: www.phoenixcontact.com/dataconference
Other sessions will include:
• Cybersecurity - Threats and best practices for building automation systems: Kevin Smith, Chief Architect, Tridium
• Analytics are here: Using data analytics to improve energy and operational efficiency: John Petze, Principal, SkyFoundry
• Energy optimization with data analytics: review a live implementation to demonstrate power of analytics: Karl Zimmerman, CEO, EnergyIQ
• Understanding the impact of cybersecurity risk assessment on the IT and OT communities: Dave Gunter, Director of Cybersecurity Services, exida
Following the sessions, the speakers will participate in an expert panel discussion and Q & A. Participants can also take an optional tour of Phoenix Contacts U.S. facility, including manufacturing, design, logistics center, and power generation facilities. This free event runs from 8:30 a.m. to 4:30 p.m. and includes lunch.
Learn more and register at www.phoenixcontact.com/dataconference.
About Phoenix Contact
Phoenix Contact develops and manufactures industrial electrical and electronic technology products that power, protect, connect and automate systems and equipment for a wide range of industries. Phoenix Contact GmbH & Co. KG, Blomberg, Germany, operates 50 international subsidiaries, including Phoenix Contact USA in Middletown, Pa.
For more information about Phoenix Contact or its products, visit http://www.phoenixcontact.com, call technical service at 800-322-3225, or e-mail info@phoenixcon.com.
Featured Product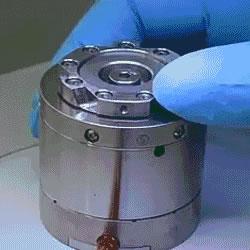 A traditional gantry system employs X-Y or X-Y-Z range of motion. Mounted on a base plate, usually granite, 2 parallel rails constitute the synchronized Y axis motion while the cross axis (bridge axis) provides the X motion. A vertical axis can be added on the bridge for the Z motion. A Split Bridge system can be less complex than a traditional gantry system because synchronization of the two parallel linear motors is not required. Both systems are used in industrial production, testing, and additive manufacturing.