With the vision of making automation in industry a hands-on and enjoyable experience, Thomas Punzenberger founded Ing. Punzenberger COPA-DATA GmbH in 1987 in Salzburg.
With the vision of making automation in industry a hands-on and enjoyable experience, Thomas Punzenberger founded Ing. Punzenberger COPA-DATA GmbH in 1987 in Salzburg. What began as a small start-up is now a company which boasts international success, with subsidiaries, distributors, partners and customers based all around the globe. On September 1, 2017, COPA-DATA will celebrate its 30th anniversary.

Since its foundation, COPA-DATA has dedicated itself entirely to technology. By the end of the 1980s, the brothers Thomas and Alexander Punzenberger recognized the potential software systems offer to industry - and to the energy industry in particular.
"Right from the start, our aim was to develop automation software which was to be better and simpler than any other system on the market," explains CEO, Thomas Punzenberger. "At that time, many advised us against establishing our system on the basis of Microsoft Windows, because this was not common practice in the industry. Our concept of "setting parameters instead of programming" was also met with a great deal of skepticism at the beginning. But our success proved us right. Both decisions have contributed significantly to our growth over the last 30 years."
Software "made in Austria"
As a privately owned Austrian family business, COPA-DATA is independent of external investors and stock markets and can therefore trade with flexibility, agility, and autonomy. Although more than 90 percent of the turnover is generated through exports, the zenon software is developed exclusively at the company's headquarters in Salzburg. From here, the product is distributed via eleven subsidiaries, 16 distributors, and around 200 partner companies around the world.
With the 30 year anniversary fast approaching, it is fitting that COPA-DATA recently appointed a larger management team of three people at the beginning of the year. This will prepare the company well for the future. In terms of both its turnover, which stands at 31.4 million euros (2016), and number of employees, of which there are presently around 230 worldwide, COPA-DATA has set itself an ambitious course for growth over the next five years.
Pioneer of the digital Smart Factory
With its high-performance software systems, zenon and straton, and a growing network of professional partner companies, COPA-DATA now supports companies in the automotive, energy & infrastructure, food & beverage, and pharmaceutical sectors as they undergo a digital transformation to the Smart Factory. This extends from traditional automation projects for visualizing, monitoring, and controlling machines and equipment, right up to cloud-based Industrial Internet of Things solutions for cross-location data analyses or predictive maintenance.
"As the industry becomes increasingly digitalized and the previously separate worlds of OT and IT begin to merge, application scenarios which include entirely new elements are emerging for zenon. This allows us to make inroads into additional business sectors such as smart cities. Our software is best equipped for the new challenges faced by the industry and we have many more innovations in the pipeline for our customers over the coming years," explains Punzenberger.
Caption:
Thomas Punzenberger was inspired by his experience as an engineer in automotive manufacturing to found COPA-DATA in 1987. It all began in a two-room apartment. Today, COPA-DATA is the largest independent provider of software solutions for industrial automation and the energy sector. (Photo Thomas_Punzenberger_2017.jpg: Roland Hölzl)
On COPA-DATA
COPA-DATA is the technological leader for ergonomic and highly dynamic process solutions. The company, founded in 1987, develops the software zenon for HMI/SCADA, Dynamic Production Reporting and integrated PLC systems at its headquarters in Austria. zenon is sold through its own offices in Europe, North America and Asia, as well as partners and distributors throughout the world. Customers benefit from local contact persons and local support thanks to a decentralized corporate structure. As an independent company, COPA-DATA can act quickly and flexibly, continues to set new standards in functionality and ease of use and leads the market trends. Over 100,000 installed systems in more than 90 countries provide companies in the Food & Beverage, Energy & Infrastructure, Automotive and Pharmaceutical sectors with new scope for efficient automation.
On zenon
zenon is a software system from COPA-DATA for industrial automation and the energy industry. Machines and equipment are controlled, monitored and optimized. zenon's particular strength is open and reliable communication in heterogeneous production facilities. Open interfaces and over 300 native drivers and communication protocols support the horizontal and vertical integration. This allows for continuous implementation of the Industrial IoT and the Smart Factory. Projects with zenon are highly scalable.
zenon is ergonomic, both for the engineer and for the end user. The engineering environment is flexible and can be used for a wide range of applications. The principle of "setting parameters instead of programming" helps engineers to configure projects quickly and without errors. Complex functions for comprehensive projects are supplied out-of-the-box to create intuitive and robust applications. Users can thereby contribute to increased flexibility and efficiency with zenon.
Featured Product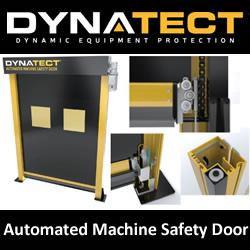 Dynatect's Gortite VF (Vertical Fabric) Automated Machine Safety Door is intended for automation and safe machine access to minimize cycle time and maximize production time. The automated roll-up door separates machines with hazardous operations from other processes, material handling equipment, and people. The Gortite VF Door contains typical machine/process generated hazards including light debris, fluid splatter/mist, and weld smoke/sparks/flash.