Nanopositioning highlights included engineered systems by PI of precision automation solutions for silicon photonics, biotechnology,and touch display testing.
Motion and precision positioning systems expert PI (Physik Instrumente) issued a catalog on newly introduced precision motion solutions for photonics, robotics, microscopy, and highly accurate industrial automation applications at LASER World of PHOTONICS, held in Munich, Germany last month.

The 80 page catalog covers products and custom engineered systems, including automated photonics alignment engines, linear motor stages, piezo actuators, air bearings, hexapod Stewart platforms, and high performance motion controllers.
Creative application solutions complement the existing comprehensive portfolio of precision motion and positioning technologies, components, and systems.
As the leading international conference and trade show for photonics, lasers, and precision optics since 1973, LASER engaged and educated more than 32,000 visitors. PIs interactive product displays included laser micro-machining setups, 10-axis touch panel test systems, high-speed gantries, SiP alignment systems, high-speed direct drive stages, and parallel-kinematic machines.
Download the New Products Catalog >
Read Technical Application Examples of PI Products >
Standard and Custom
PI has in-house engineered solutions with over 4 decades of experience working with customers to provide products that meet application demands, and can quickly modify existing product designs or provide a fully customized OEM part to fit the exact requirements of the application.
About PI
PI is a leading manufacturer of air bearing stages, piezoelectric solutions, precision motion control equipment, and hexapod parallel-kinematics for semiconductor applications, photonics, bio-nano-technology, and medical engineering. PI has been developing and manufacturing standard & custom precision products with piezoceramic and electromagnetic drives for 4 decades. The company has been ISO 9001 certified since 1994 and provides innovative, high-quality solutions for OEM and research. The PI group employs more than 1,000 people worldwide in 15 subsidiaries and R&D / engineering centers on 3 continents.
Featured Product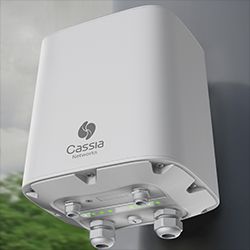 Cassia works with smart IIoT equipment manufacturers to help them overcome their challenges and to provide the competitive edge they need to reach their business goals. We provide companies in various IIoT sectors with a comprehensive suite of enterprise Bluetooth IoT products and solutions they need to enable smart IIoT solutions such as Condition Monitoring, Predictive Maintenance as well as Personnel and Asset Tracking solutions. Cassia's long-range Bluetooth gateways are uniquely designed for today's Industrial IoT enterprises to provide the scalability, flexibility and ease of deployment needed to reduce costs and achieve greater ROI.