A lack of standards-based technical security testing is putting industrial control environments and critical national infrastructure at risk
New York, June 29, 2017: There is a pressing need to improve cyber security in Industrial Control System (ICS) environments to avoid future breaches that could impact critical national infrastructure concludes CREST, the not-for-profit accreditation body representing the technical information security industry, in its latest position paper, 'Industrial Control Systems: Technical Security Assurance. The report highlights a number of challenges and suggests that more technical security testing has a significant role to play in ensuring higher levels of security assurance are met.

The report draws on the diverse views of the Industrial Control Systems and technical security communities and proposes a model for gaining greater assurance in ICS environments. It was based on the findings of a research project - which looked to set out the main challenges and possible solutions for protecting Industrial Control Systems, many of which are based on legacy technologies.
One of the key findings in the report is the absence of periodic standards-based technical security testing that is commonplace in many other industries. Because of this, ICS environment owners and operators have no objective way of knowing whether cyber risk is being adequately managed and at present there is no definitive standard for testing ICS environments that is mandated by regulatory bodies. The fact that ICS environments are rapidly changing also leads to a higher degree of exposure.
"ICS environment owners require assurances that risk is being identified, assessed and evaluated. Above all else they need to know that there are appropriate measures in place to manage and mitigate risk," explained Ian Glover, president of CREST. "Research on the project has helped to identify the high-level characteristics of a practical technical security testing approach and organizations should consider how this could add value and protection. It is clear that ICS environments are more sensitive than conventional IT environments and any penetration testing of systems needs to be planned and undertaken with a high degree of trust, skill and caution."
"This position paper is supporting the work CREST is doing in many parts of the critical national infrastructure in the roll out of intelligence led penetration testing," added Glover.
The position paper is for organizations in both the private and public sector and is mainly targeted at IT managers, information security managers and technical security testing specialists. It will also be of interest to process engineers, safety specialists, business managers, procurement specialists and IT auditors.
CREST is now looking to expand on this initial ICS research to develop detailed guidance material that can be used by specialist to help secure ICS environments and in particular those that make up the Critical National Infrastructure. You can look at the full report here: http://www.crest-approved.org/wp-content/uploads/CREST-Industrial-Control-Systems-Technical-Security-Assurance-Position-Paper.pdf
About CREST
CREST is the not-for-profit accreditation body representing the technical information security industry. CREST provides internationally recognized accreditation for organizations and individuals providing penetration testing, cyber incident response and threat intelligence services. All CREST Member Companies undergo regular and stringent assessment; while CREST qualified individuals have to pass rigorous examinations to demonstrate knowledge, skill and competence. CREST is governed by an elected Executive of experienced security professionals who also promote and develop awareness, ethics and standards within the cyber security market.
Featured Product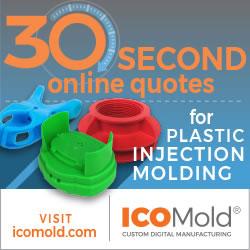 ICOMold provides plastic injection molding, CNC machining of plastic and metal, and urethane casting to customers worldwide in a variety of industries. We offer low-cost, high-quality custom plastic parts manufactured to your design, with a very fast turnaround. Any quantities from single prototypes to large, on-demand production runs. We are ISO 9001:2015 certified, and our production molds carry a lifetime warranty. Get an online quote in less than 30 seconds with our interactive quotation system.