The Dynapar OnSite™ Condition Monitoring System combines ease-of-use with sophisticated functionality in a surprisingly economical solution. It features four sensors that each measure vibration along three axes, plus temperature.
GURNEE, Ill.--(BUSINESS WIRE)--The Dynapar OnSite™ Condition Monitoring System is changing what it means to track machine health. Designed to deploy in minutes, the four-sensor device combines affordable, remote 24/7 condition monitoring with cloud-based analytic software for multi-stakeholder access. Today's lean market puts ever greater emphasis on maximizing uptime. Savvy plant managers, reliability engineers, and maintenance managers understand the importance of condition monitoring to achieving this goal. Unfortunately, previous market solutions have always been too expensive, complex, or time-consuming to install on any but the most high-value pieces of equipment. Dynapar developed the OnSite System specifically to address these limitations.

"We are democratizing condition monitoring, making this powerful tool accessible to end users and third-party predictive maintenance providers," says Ferran Ayala, marketing director at Dynapar. "Our customers asked for a practical solution to monitor their critical assets, their bad actors, and their hard-to-reach equipment. The OnSite System puts powerful insights at their fingertips, at an affordable price."
The Dynapar OnSite™ Condition Monitoring System combines ease-of-use with sophisticated functionality in a surprisingly economical solution. It features four sensors that each measure vibration along three axes, plus temperature. It can also connect to an encoder, integrating speed to enhance analytics and troubleshooting. The wireless OnSite System enables organizations to monitor virtually any asset of interest, not just high-value ones like turbines. After all, not every asset is a turbine. Even a simple cooling fan can be a critical asset, if its failure also takes down an entire production line. The OnSite System finally makes it practical to monitor as many assets as necessary (fans, pumps, gear boxes, etc).
Because the hub is designed for rapid installation, it is just as effective to deploy temporarily, to monitor a troubled asset in the run-up to a scheduled maintenance shutdown, as it is to install permanently. In just minutes, any stakeholder in the organization, or third-party service provider can be analyzing real-time data from the equipment. And they can do it from any location, be that across the plant or across the world. They simply log into the password-protected web app using their computer, tablet, or smart phone. In the event the asset begins to exhibit abnormal behavior, users will receive email alerts, thanks to a customizable alarming function. In this way, manufacturers can catch problems before they lead to downtime.
Hardware is only one part of the value proposition. The Dynapar OnSite™ Analytics web app is designed to be sophisticated enough to support the needs of licensed vibration technicians but easy enough for use by a novice machine operator. Its capabilities range from simple configurable dashboards and alarms to advanced diagnostic tools like FFTs and waterfall plots. Leveraging existing wireless or cellular networks, the system incorporates robust security and operates with existing firewalls, making it appealing to IT departments.
The OnSite System is already established in multiple production environments. Installations include paper processing, converting, steel manufacturing, and more. "In less than three months, our early adopters have already realized their return on investment," says Ayala. "Our system has helped them prevent line stoppages and avoid unscheduled maintenance."
"We are helping customers to transition from a reactive mindset to a much more proactive one," says Ayala. "We are also enabling third-party reliability service providers to offer 24/7 condition monitoring as a service. With the OnSite Condition Monitoring System, we are transforming the traditional way of working. We call it condition monitoring, reinvented."
Don't just take our word for it, discover for yourself what the OnSite Condition Monitoring System can do for you. Our no-risk, free trial offer lets you try out the system at your own facility, on your own equipment. For more information on this offer, please Contact Dynapar.
About Dynapar
Dynapar is an industry leading supplier of encoders, resolvers and condition-monitoring solutions. From small kit encoders to large mill-duty tachometers, Dynapar has a strong market presence in a wide range of industries including steel, paper, elevator, oil and gas, aerospace & defense, medical, material handling and industrial servo manufacturing. Dynapar offers a broad array of encoders and resolvers through our well established Dynapar™, Hengstler™, NorthStar™ and Harowe™ brands. Dynapar also provides 24/7 remote condition monitoring systems with built-in cloud-based analytics. Dynapar supports global customers with local sales and production locations in Germany, Japan, China, and Brazil.
Featured Product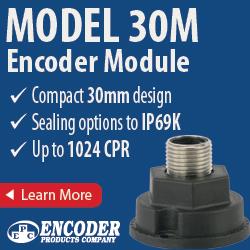 The Model 30MT is a compact magnetic encoder module designed for the most extreme environments. It offers sealing up to IP69K, an operating temperature range of -40° to 120° C, and a shock and vibration rating that conforms to Mil-STD-202G. With a large air gap and tolerance to misalignment, up to 1024 CPR (4096 PPR with Quadrature Counting), and easy alignment and installation, the Model 30M or is an excellent solution where you need motion feedback in your robotics application.