ILAT from Inelta: Inductive Path Sensors in Miniature Format
The new Inelta ILAT Series Miniature LVDT Sensors provide precision measurements of position and path in the range of single-digit millimeters. The sensors of this series are available in Models ILAT 2, ILAT4 and ILAT10 for the exact measurements of ±1 mm, ±2 mm or ±5 mm traveling distances. Owing to their tiny dimensions with a housing length of 79 mm and a diameter of only 8 mm at a weight of 30 g (including cable), the sensors will navigate even within very tight-fitting conditions.

Because of the inductive LVDT principle (Linear Variable Differential Transformer), in which a coil within the sensor with a primary winding and two secondary windings transforms the linear motions of the measuring sensor contact-free into a single electronic signal, the ILAT Sensors operate free from wear and provide a linearity tolerance of <0.25%. They are also available with an even smaller linearity tolerance of <0.1%.
Even with their tiny dimensions, the ILAT Sensors are distinguished by their robust design with a stainless-steel housing in protection class IP65 - optionally also in IP67. Nominal temperature rating is 0° - 70°C. The carefully designed linear guiding operates by virtue of a locking mechanism of the probe and can provide more than 10 million cycles. These versatile sensors are suitable for many applications, including medical technology, engineering, agriculture and navigation up to testing facilities or manufacture of special purpose machinery.
Fitting the ILAT Path Sensors are the Inelta external sensor amplifiers IMA2-LVDT, available for signals in the ranges of 0..5V, 0..10V, ±5V, ±10V, 0/4..20mA and ISM-LVDT for 0…10V- or 0..20mA signals. Our print module IVM-LVDT with a readout of 0..10V signals, is also available, suitable for integration into your electronics.
Additionally, Inelta can provide custom sensor designs with further optional features such as custom-made calibration, cable lengths and expanded temperature ranges. For more information, please visit http://www.hoffmann-krippner.com/sensors-displacement.html or call us at 770-487-1950.
ABOUT HOFFMANN + KRIPPNER, INC.
The Hoffmann + Krippner Group, with sales offices around the globe, is your specialist for input and output systems as well as sensors. Headquartered in Germany, Hoffmann + Krippner manufactures German-engineered, high quality products for over 35 years.
As the North American member of the Group, Hoffmann + Krippner, Inc. delivers these engineering, design and manufacturing services to the US and Canadian market.
As of 2014, Hoffmann + Krippner, Inc. has partnered with Altmann GmbH (manufacturer of high-precision potentiometers), Inelta GmbH (manufacturer of LVDT and load cells), and PIL GmbH (manufacturer of ultrasonic sensors). Beyond manufacturing of standard products, we always welcome the challenge of providing high-quality, custom solutions to our clients.
Featured Product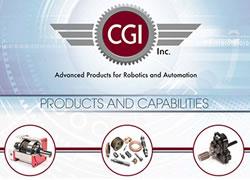 From Prototype to Production CGI Motion enables design excellence across a wide range of industrial applications. We thrive on customer driven innovation in precision gearbox, precision machined components and electro-mechanical assembly solutions ranging from aerospace systems to semiconductor applications. We are your design and manufacturing partner helping to differentiate your product, machine or innovation. Our team of problem solving engineers and product managers can bring your application to market on time and under budget. Whether it's an improvement on a current design or groundbreaking new designs, CGI has the know-how and team to enable design excellence. Connect with us today to explore what CGI Motion can do for you.