Affordable, safe, fast, and precise metal 3D printing for bothprototyping and mass production
Fisher Unitech, a leading technology provider of 3D design software tools and 3D printers, announced today that it has partnered with Desktop Metal to add metal 3D printing solutions to its portfolio. Fisher Unitech will sell and service Desktop Metal 3D printing systems across Midwest, New England, and Mid-Atlantic geographies to provide affordable engineering and manufacturing 3D metal printing solutions covering the full product lifecycle — from prototyping to mass production.

"We are excited to partner with Fisher Unitech," says Desktop Metals CEO and Co-Founder Ric Fulop. "Fisher Unitech is an essential partner to help us fulfill our mission to make metal 3D printing more accessible, and we are pleased to have one of the largest sellers of 3D printers as part of our team."
Desktop Metal launched two metal 3D printing systems that are transforming the way metal parts are created and produced. The Studio System TM , is the first office-friendly metal 3D printing system for rapid prototyping . The Production System TM, is the fastest 3D printing system for mass production of high-resolution metal parts.
"We are thrilled to be continuing the advancement of manufacturing in America with the addition of Desktop Metal," says Fisher Unitech CEO Matt Wise. "This is a great addition to our technology solutions. We are continuing to enable our customers to improve their time to market by providing technologies for both plastics and metals."
Fisher Unitech is excited to expand its product offerings to continue to advance manufacturing in America. With the addition of Desktop Metal 3D printing solutions, Fisher Unitech is expanding its capabilities to help its customers reduce costs and jump ahead of the competition through digitizing their product development process and helping them transition to the 4th Industrial Revolution.
About Fisher Unitech
Fisher Unitech is fundamentally improving manufacturing in America by delivering, supporting and training customers on the best product development software and additive and subtractive manufacturing solutions available. The company delivers 3D software and hardware, which enables customers to design, validate and manage innovative products from prototyping to manufacturing. Fisher Unitech is one of the largest providers of Stratasys 3D printers in the world and one of the leading SOLIDWORKS TM providers. We have best-in-class technical experts who work proactively to ensure that customers gain the most value from their investment with award-winning training options, consultation, and support. Fisher Unitech has locations throughout the Midwest, Mid-Atlantic, and New England. For more information, visit http://www. FisherUnitech.com.
About Desktop Metal
Desktop Metal, Inc., based in Burlington, Massachusetts, is accelerating the transformation of manufacturing with end-to-end metal 3D printing solutions. Founded in 2015 by leaders in advanced manufacturing, metallurgy, and robotics, the company is addressing the unmet challenges of speed, cost, and quality to make metal 3D printing an essential tool for engineers and manufacturers around the world. For more information, visit http://www.desktopmetal.com.
Featured Product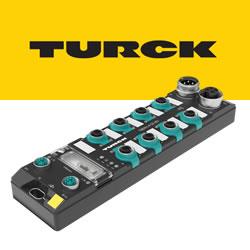 The new IP67 Managed Ethernet Switch from Turck provides standard and Gigabit ports in the same device. Configure, manage, and monitor connected machines and devices remotely, outside of a control cabinet. Find out more about this rugged solution for decentralized control. Part number TBEN-Lx-SE-M2. • Gigabit high-speed backbone for fast link-up times • Standard and Gigabit ports on the same device • Web-based diagnostic tools for preventive maintenance • Built-in security with the use of VLAN, NAT routing and firewall