Avitas Systems, a GE Venture, will transform inspection services with advanced robotics, data analytics and artificial intelligence
BERLIN--(BUSINESS WIRE)--Today at GE's Minds + Machines Europe event, GE Ventures (NYSE:GE) announced the launch of Avitas Systems, a new company that will use predictive data analytics, robotics, and artificial intelligence to deliver advanced inspection services to the oil and gas, transportation, and energy industries.

Routine inspections can be slow and costly, and often include humans performing high-risk tasks. Data is manually collected and processed, and can take weeks to analyze. By reducing high-risk tasks through robotics, Avitas Systems can make inspection processes safer and more efficient through data automation, decreasing costs by up to 25%. By performing inspections based on anticipated risk, instead of regular time intervals, Avitas Systems can also help to increase asset longevity.
"The inspection services industry requires cutting-edge technologies to help avoid unplanned asset downtime and to deliver new, valuable insights," said Alex Tepper, Founder and Head of Corporate and Business Development at Avitas Systems. "We will use state-of-the-art robotics, automated defect recognition, and cloud-based technology to give customers the customized service and data they need to advance from reactive to predictive repair."
Avitas Systems partners with GE Global Research and market leaders in drone and robotics technology to develop ground-based and aerial autonomous and semi-autonomous robots with a wide variety of sensors used to inspect assets. The Avitas Systems solution, built on GE's Predix platform for the Industrial Internet, analyzes inspection data, integrates regulatory and external data sources, such as weather, identifies defects automatically and recommends optimal inspection and maintenance schedules. The system can fuse data from diverse sources and independently analyze the relationships between them for deeper insights and incorporates user feedback to make defect detection smarter and more accurate.
Customers will be able to access inspection data in real time through an inspection platform that includes customized dashboards and reports. The platform also includes 24/7 live alerts that enable customers to monitor their data from any location.
"Unplanned asset downtime is a top issue for the oil and gas industry, and can cost operators millions of dollars," said Kishore Sundararajan, Chief Technology Officer of GE Oil & Gas. "Avitas Systems will help enhance the efficiency of inspections, and can help our customers and others avoid significant costs by reducing downtime and increasing safety."
The new company utilizes aerial inspection technology and systems expertise from GE's Global Research Center and Oil & Gas business, as well as business incubation leadership from GE Ventures. Avitas Systems leverages expertise from the GE Store, a global exchange of knowledge, technology, and tools that drive innovation and efficient outcomes to service multiple GE businesses and customers.
Avitas Systems is based in Boston, Massachusetts, home of GE's global headquarters, and draws from deep regional talent pools of robotics, enterprise software, artificial intelligence, and database technology. The company can be found online at http://www.avitas-systems.com/ and @Avitas_Systems on Twitter and LinkedIn.
About Avitas Systems, a GE Venture
Avitas Systems is a GE Venture advancing the inspection services industry across oil and gas, transportation, and energy sectors through predictive data analytics, robotics, and artificial intelligence. Its solutions increase safety and decrease inspection costs by providing state-of-the-art robotic-based autonomous and semi-autonomous inspection management, smart scheduling, and a cloud-based platform that analyzes and stores comprehensive inspection data. Avitas Systems delivers advanced insights based on anticipated risk, boosting facility productivity.
About GE Ventures
GE Ventures identifies, scales and accelerates ideas that will help make the world work better. Focused on the areas of software, advanced manufacturing, energy and health care, GE Ventures combines equity investing, new business creation, licensing and technology transfer to deliver an innovation platform designed to drive growth for partners and GE. For more information, visit http://www.geventures.com, or follow on Twitter (@GE_Ventures) and LinkedIn.
Featured Product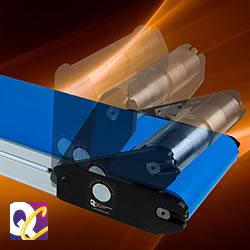 AS40 Conveyors are designed for ease of use and simple integration with robotic applications. Built on a rigid aluminum frame, they feature tee slots for rapid accessory mounting and a tail that flips up at the push of a button for easy under-belt cleaning and belt changes. Nosebar tails are available for transferring small parts between conveyors. All conveyors include a 10 Year Warranty and most are available with a fast five day lead time.