Following a soft launch end of May, www.AgriTechTomorrow.com has officially launched its Online Trade Magazine.
San Diego, California, June 12th, 2017 - AgriTechTomorrow, a new online Agricultural Technology and Precision Farming publication, today announced its official launch. With fresh articles, case studies and interesting news from around the industry and the globe, AgriTechTomorrow has positioned itself to be a leading resource whether you work in the farming, agricultural technology and precision farming field or just share an interest for everything agricultural.

In addition to the launch of the website, AgriTechTomorrow will be sending out the first of its bi--monthly Newsletter to its subscriber base. The Newsletter is designed to deliver the most popular news and articles from the recent issue directly to your inbox. You can also find AgriTechTomorrow on Facebook, Twitter and LinkedIN and with direct feeds of industry news and articles.
AgriTechTomorrow.com is a new venture from LJB Management Inc.. The company out of San Diego, CA is a pioneer in the Online Trade Magazine concept. Four other popular publications, HomeToys.com, AltEnergyMag.com, RoboticsTomorrow.com and ManufacturingTomorrow.com, draw in thousands of monthly readers from across the globe. Brandon Hetherington, Business Development manager of LJB Management, had this to say about the launch of AgriTechTomorrow.com. "Weve always been looking ahead to the next industry breakthrough with our publications. In 1996 HomeToys led the way into online publishing about the Home Technology industry. In 2002 we launched AltEnergyMag to cover Alternative Energy, in 2011 we foresaw Robotics and Smart Manufacturing as the next industry to hit the headlines in a big way. With growing population and decreasing resources agriculture is in store for major changes in the decades ahead. We are proud to play whatever roll we can to advance the conversation and improve how we farm."
About AgriTechTomorrow.com
AgriTechTomorrow.com is an Online Trade Magazine featuring Products, Companies, News, Articles and Events for the Agricultural Technology and Precision Farming industries. With an emphasis on the state of the art and on the horizon technologies that have strong prospects of commercialization, our philosophy is to create an outlet where the industry can share information and report on itself.
Featured Product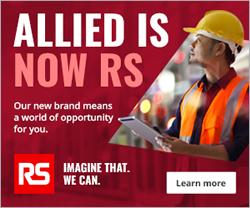 Based off the design pioneered by Anderson in 1953, the two pole SB® connectors set the standard for DC power distribution and battery connections. SB connectors feature a rugged one-piece plastic housing using stainless steel springs to retain the contacts and create the "contact force" that provides extremely low resistance enabling greater electrical efficiency. The SB connectors are also genderless (flip one 180 degrees and they will mate to each other) reducing the customer's bill of materials and providing greater economies of scale when purchasing. The SB series of connectors range in size from SB50 to the SB350. Each family size offers color-coded, mechanically keyed housings designed to prevent both visually and physically cross-mating devices with different voltages. All the connectors are UL rated to 600 volts, so the keys and colors are just identifiers to prevent accidents. Contacts are traditionally Silver plated to minimize electrical resistance while offering supreme durability and reliability.