The full team at H & G Systems will continue to serve customers under the name of ATS Applied Tech Systems Scotland Ltd. together with the original team members of ATS in the UK.
ATS is pleased to announce that it has acquired H & G Systems Ltd. based in Edinburgh, Scotland, UK. H & G Systems specialize in system integration, industrial automation, motion control and complex robotics giving them unique access to many customers. The full team at H & G Systems will continue to serve customers under the name of ATS Applied Tech Systems Scotland Ltd. together with the original team members of ATS in the UK.

John Purves, appointed Country Manager commented on the acquisition: "I am very proud of our achievements at H & G Systems Ltd. over the last fourteen years and of the strong growth and excellent service it has provided to our customers. The decision to merge was taken after we recognized that only a larger, strategic owner could take H & G Systems Ltd. to the next phase of its development. The businesses fit together well since both companies are very similar but with complementary customer bases. The industry in which we deliver projects and services is dynamic and our customers need to respond to both global opportunities and local industry transformation. As a global and independent solution provider, ATS has all the right ingredients to help our customers meet their challenges, to power further growth, to provide a secure home for the team, and to strengthen technical support for our customers. While we add new services and products to our portfolio, we will continue to provide innovative and reliable process solutions to our existing customers."
John will report directly to Kevin Partington, Managing Director for ATS UK operations. Due to the merger Kevin sees a major opportunity to expand the range of solutions offered to existing and potential customers which will enable ATS to offer greater breadth and depth of expertise whilst providing a robust and comprehensive service.
An example is the ATS Bus - Smart Manufacturing Service Bus, which significantly lowers the cost of system integration, as a part of ATS ADOS solution for Industry 4.0, which can be used by H & G Systems existing customers to achieve tangible business benefits during their digital transformation journey, while existing ATS customers can benefit from the enhanced capabilities of the newly created team.
Paul Bron, CEO of ATS Global, explained the strategic importance of the acquisition. "ATS provides manufacturers with products and services to accelerate their Digital Transformation. Global and local manufacturers must address the challenges to sustain and gain their competitive advantage and implement their Digital Transformation strategy and our Automation and MOM solutions do just that. In the fourth industrial revolution, commonly referred to as Industry 4.0 and Smart Manufacturing, there will be a real drive to implement cyber-physical systems. ATS needs to improve and innovate its products, solutions and capabilities across all aspects of Industry 4.0 and the H & G Systems team and expertise is now part of our offering. We will continue to search for suitable acquisitions to broaden our product offering and our global reach even further."
About ATS
ATS is an Independent Solution Provider of smart automation, quality and IT excellence solutions, with over 30 years of experience, undertaking continuous improvement initiatives and Manufacturing IT solution design, deployments and 24/7 support assignments.
Featured Product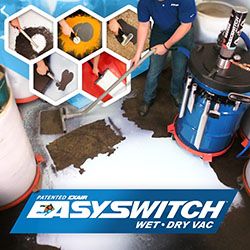 Hazardous Location Cabinet Coolers are available for use with Class I classified enclosure purge & pressurization systems. UL Classified HazLoc Cabinet Coolers are a reliable way to cool and purge electronic control panels. Protect your enclosures! https://exair.co/184-542