The company is now selling Metal X, which makes robust metal parts easy and inexpensive to produce.
Superior 3D Solutions announced today that it has signed an agreement with Markforged to sell the new Metal X 3D printer. The company currently sells and provides service for the entire Markforged line of 3D printers, including the Onyx series, Mark Two and Mark X. The Metal X is designed to print 17-4 stainless steel and several other materials including aluminum, tool steels, titanium and Inconel are in beta testing.

Markforged is an innovative 3D printing company that delivers same-day strong, working parts made of carbon fiber composites. Markforged invented a proprietary continuous carbon fiber filament printing method and its products are used in the industrial, automation, automotive, aerospace and medical industries in over 50 countries worldwide. The Metal X makes robust metal parts easy and inexpensive to produce. With the Metal X, its possible to create shapes and geometries that cannot be produced with todays metal printers.
"The level of strength the Markforged system is able to produce is amazing," said Shayne Denston, president, Superior 3D Solutions. "Adding metals to the line-up puts Markforged at the front of the pack in the 3D printing industry. We are very fortunate to team up with Markforged and excited to demonstrate the game-changing capabilities this technology has to help advance design, engineering and manufacturing."
Superior 3D Solutions tested 20 different printers before deciding to exclusively sell Markforgeds line of printers. The company provides a range of services highlighting the Markforged line including weekly lunch and learns. They also frequently provide on-site demonstrations. Superior 3D Solutions will be showcasing the Mark Two and Mark X at the SEMA GARAGE Automotive Industry Innovations Center on Thursday, June 8, 2017. Metal X and carbon fiber parts will also be on display.
"Superior 3D Solutions has a deep knowledge of the 3D printing industry, enabling them to provide critical insights to their customers," said Matt Katzman, director of Worldwide sales, Markforged. "They have a strong track record of helping companies in many different industries receive the maximum value from their Markforged printers."
###
About Superior 3D Solutions
Superior Solutions is one of the nations leading suppliers of Markforged 3D printers. Founders Brent and Shayne Denston have a combined experience of more than 33 years in the 3D printing industry. Superior 3D Solutions provides manufacturers, engineers, designers, tool makers, marketing teams and educators with the best 3D printers available to print strong, durable parts for rugged functional testing and manufacturing tools such as jigs, fixtures, inspection gauges, CMM fixtures, and end-of-arm tooling. More information is available at http://www.Superior3DSolutions.com.
About Markforged
As one of the most well respected, innovative and rapidly growing 3D printing companies, Markforgeds mission is to provide its customers with high strength parts, built right the first time. In 2014, Markforged revolutionized 3D printing with the introduction of the worlds first carbon-fiber composite 3D printer. Today, Markforgeds lineup of innovative printers and their groundbreaking materials along with Eiger cloud software are making strong parts for thousands of customers in over 50 countries around the world.
Markforged Industrial Strength 3D Printers produce mission-critical, workhorse parts that solve real problems for their customers, and realize structures never before possible. For more information, visit http://www.Markforged.com.
Featured Product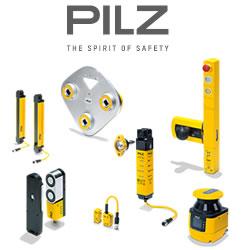 Pilz offers a wide range of safety sensors that conform to international standards and have been tested by certification bodies. Our sensor technology portfolio includes safety switches for monitoring positions, as well as guards. Optical sensors are ideally suited for area and zone monitoring. Choose from our wide range of light barriers, camera systems or tactile sensors, such as pressure-sensitive safety mats. Use our safe sensors in conjunction with our safe control technology! What you'll get from Pilz is an economical and safe complete solution. As well as being able to guarantee high efficiency for plants in an industrial environment, it is also especially important for us as a sensor manufacturer to protect humans, machinery and the environment.