End-to-end IIOT solutions showcase how to turn sensor data into actionable insights.
ADLINK Technology, a global provider of leading edge computing solutions that drive data-to-decision applications across industries, will present integrated demonstrations showing how customers can collect, store and analyze data with Industrial Internet of Things (IIoT) gateways to improve operational efficiency. The demonstrations will take place in Booth 124 at IoT World 2017, May 16 - May 18, at the Santa Clara Convention Center.

Multiple live demonstrations will be presented:
The Vortex Edge PMQ solution features IBM's Predictive Maintenance and Quality (PMQ) analytics platform and ADLINK MXE series IIoT Gateways. A conveyor belt and electric motor equipped with multiple sensors pushes real-time data through an ADLINK MXE-200 IIoT gateway highlights how predictive analytics and edge computing can enable advanced machine-monitoring on the factory floor. The Vortex Edge PMQ reduces asset downtime, improves production quality and increases equipment longevity. Vortex Edge PMQ provides a fully integrated hardware, data connectivity, and analytics package that transforms Industrial IoT data into insights and actions.
OSIsoft's PI System for Edge Gateways demonstrates how ADLINK's MXE-200 ruggedized IIoT gateway can be used for remote asset management. The demo collects, stores and delivers sensor data on the network edge in mission-critical environments while running OSIsoft's PI system for Edge Gateways. The system provides real-time and optimized remote asset management for greater profitability and operational excellence.
"The Industrial Internet of Things enables vast amounts of sensor data to be collected," said Elizabeth Campbell, General Manager at ADLINK Americas. "When this sensor data is paired with industry leading analytics platforms, it takes customer intelligence and operational efficiency to the next level."
Learn more about ADLINK's IIoT Solutions click here.
For more information on IoT World or to register for an expo pass, please visit
https://tmt.knect365.com/iot-world/
ABOUT ADLINK
ADLINK Technology is leading edge computing with solutions that drive data-to-decision applications across industries. ADLINK offers building blocks and market-specific IIoT platforms to serve the automation, communications, medical, transportation, and defense/government verticals. Many products are Extreme Rugged™, supporting extended temperatures, shock and vibration. ADLINK is a Premier Member of the Intel® Internet of Things Solutions Alliance and is active in several standards organizations and interoperability initiatives.
Featured Product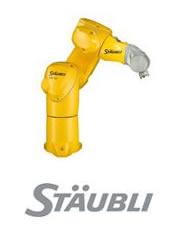 TX2 robots: redefining performance by offering collaborative safety and high performance in a single machine. These pioneering robots can be used in all areas, including sensitive and restrictive environments, thanks to their unique features. Safety functions are easy and inexpensive to implement. They allow a higher level of interactions between robots and human operators, while still guaranteeing protection of your people, production and investment.