Wisol will design, market, and sell the new IoT-optimized modules, using Wisol's technologies and components, to its customers worldwide, including in the USA, Japan, and Korea.
PARIS--(BUSINESS WIRE)--LTE for IoT chipmaker Sequans Communications S.A. (NYSE: SQNS) announced that Wisol, a leading manufacturer of wireless connectivity modules, will use Sequans' Monarch LTE Cat M1/NB1 chip, Calliope LTE Cat 1 chipset, and Colibri LTE Cat 4 chipset to design a new family of modules for M2M and IoT applications. Wisol will design, market, and sell the new IoT-optimized modules, using Wisol's technologies and components, to its customers worldwide, including in the USA, Japan, and Korea.

"Sequans' LTE for IoT technology delivers state-of-the-art efficiency in power, size and cost," said Jin Duk Kim, vice president, Wisol. "With the significant leadership position Sequans has attained, especially in the LTE-M market, both in terms of its first-to-market advantage and chip performance, it was an easy decision to partner with Sequans. We expect that our relationship will enable us to create highly differentiated solutions for the IoT industry."
"We are excited to have established a partnership with Wisol, a technology leader with outstanding capabilities in small form-factor, cost-effective module design and manufacturing," said Danny Kedar, VP of Sequans' IoT business unit. "Wisol has a strong track record in designing and building RF components and the combination of their and our technologies in these new LTE for IoT modules will enable optimizations in power, size and cost that we believe will accelerate growth in LTE for IoT worldwide."
Wisol's LTE-M module is based on Sequans' Monarch LTE platform, the world's first and most highly-optimized LTE-M (Cat M1) and NB-IoT (Cat NB1) chip, and a member of Sequans' StreamliteLTE™ family of products for IoT devices. Monarch is purpose-built for narrowband IoT applications, including sensors, wearables, and other low-data, low-power M2M and IoT devices. It includes unique RF filtering technology that enables, within a single hardware design and at no added cost, a true single, worldwide SKU with multi-band support for universal and flexible IoT implementation.
Configurable for either LTE-M or NB-IoT, Monarch provides maximum flexibility to operators, OEMs and consumers. Monarch complies with the ultra-low-power and reduced complexity feature requirements of the 3GPP release 13 LTE Advanced Pro standard. It provides full support for power saving mode (PSM) and extended discontinuous reception (eDRX) to enable the long battery life needed by many IoT use cases, and it provides the enhanced coverage modes defined in the standard that extend coverage for deep-indoor and remote deployments. Monarch comprises baseband, RF, power management, and RAM, all integrated into a single, tiny 6.5 x 8.5 mm package. In addition, Monarch supports advanced features such as dynamic power management technology, enabling battery life of 10+ years. Monarch is certified by Verizon Wireless; additional operators are expected to follow.
Wisol is also building modules based on Sequans' Calliope LTE Cat 1 and Colibri LTE Cat 4 platforms.
The new Sequans-powered Wisol modules are expected to begin sampling in the middle of 2017.
Forward looking statements
About Sequans Communications
Sequans Communications S.A. (NYSE: SQNS) is a leading provider of single-mode 4G LTE semiconductor solutions for the Internet of Things (IoT) and a wide range of broadband data devices. Founded in 2003, Sequans has developed and delivered seven generations of 4G technology and its chips are certified and shipping in 4G networks around the world. Today, Sequans offers two LTE product lines: StreamrichLTE™, optimized for broadband devices, including mobile computing, mobile/portable routers, and high-performance IoT devices; and StreamliteLTE™, optimized for lower data rate and narrowband M2M and IoT devices. Sequans is based in Paris, France with additional offices in the United States, United Kingdom, Israel, Hong Kong, Singapore, Sweden, Taiwan, South Korea, and China. Visit Sequans online at www.sequans.com; www.facebook.com/sequans; www.twitter.com/sequans
About Wisol
Wisol is a leading global manufacturer of RF total solutions, including SAW filter components and various short-range and LPWA wireless connectivity modules for the IoT market. With advanced technologies, precision packaging capabilities, and highly-qualified experience in manufacturing wireless modules and system-in-package (SiP) solutions, Wisol provides advanced module solutions to serve the worldwide IoT market.
Featured Product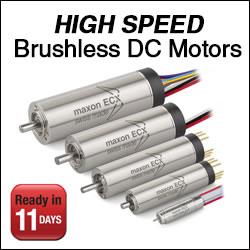 maxon motor launches new high-speed motors that are configurable online. The new ECX brushless motors are quiet and feature very high efficiency. The ECX motors are available with diameters of 8, 16 and 19 mm achieving speeds of up to 120,000 rpm. They run very smoothly and are highly efficient. With maxon motor's online configurator, it is easy to put together a customized DC motor to include gearhead, encoder and controller. The customized motors are ready to ship in 11 days!