Icon is the leader in securing the Internet of Things
Icon Labs (www.iconlabs.com), a leading provider of security solutions for IoT and edge devices, today announced it was selected by Insights Success Magazine as one of the world's Top 20 Fastest Growing IoT Companies.

Icon Labs is the leader in developing solutions to protect both IoT and Industrial IoT systems (IIoT) from cyber-attacks. Over the last year, Icon Labs has established customers throughout the USA and Europe. The company partners with leading IoT and embedded systems manufacturers to provide security components. Partners include large international companies such as Intel, McAfee, WindRiver, Renesas, Verizon, Mentor Graphics, Infineon, Micrium, and NXP.
Here is a direct link to the news article posted on the Insights Success web site - http://www.insightssuccess.com/the-20-fastest-growing-iot-companies-march2017/
According to Insights Success Magazine, "Icon Labs is focused on creating the Internet of Secure Things. They provide software toolkits and security solutions to enable embedded OEMs and IoT device manufacturers to build security into their device. The team at Icon Labs is uniquely focused on resource-limited IoT devices - devices that cannot run large, sophisticated security solutions requiring operating systems like Windows, Linux, IoS, etc. Their solutions support all major embedded OSes and RTOSes with security modules designed specifically for use in limited resource environments characteristic of the embedded marketspace. These solutions provide security building blocks for protecting the device itself rather than just relying on security at the perimeter."
Icon Labs' products provide embedded security for IoT and Machine-to-Machine (M2M) solutions in aerospace, industrial, medical, and consumer electronics. The Floodgate Security Framework provides a "defense in depth" solution to protect control units and endpoint devices from cyber threats, aid in compliance with regulatory mandates and guidelines, and gather and report command, event, and device status for audit requirements.
About Icon Laboratories, Inc.
Icon Labs, a 2014 Gartner "Cool Vendor" and 2015 Gartner "Select Vendor," is a leading provider of embedded software for device security, device protection, and networking management, including the award-winning Floodgate Defender and Floodgate Security Framework. Founded in 1992, Icon Labs is headquartered in West Des Moines, Iowa. For more information, visit www.iconlabs.com, email info@iconlabs.com, or call 888-235-3443 or 515-226-3443.
About Insights Success
Insights Success is an arch that is sustaining Entrepreneurs quench regarding technology and business update that is currently ruling the business world. We are proving the best platform for the fastest growing companies, while creating meaningful learning experiences for the visitors and invaluable brand awareness for the clients.
Featured Product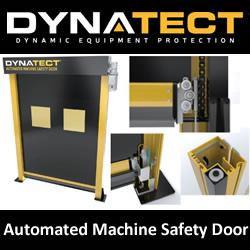 Dynatect's Gortite VF (Vertical Fabric) Automated Machine Safety Door is intended for automation and safe machine access to minimize cycle time and maximize production time. The automated roll-up door separates machines with hazardous operations from other processes, material handling equipment, and people. The Gortite VF Door contains typical machine/process generated hazards including light debris, fluid splatter/mist, and weld smoke/sparks/flash.