The Inventors of the First Automated Tool Changer Have a Breakthrough New Line
Glenville, NY: Today, Applied Robotics, Inc., a leading global provider of robotic end-of-arm tooling and connectivity solutions, announces a lifetime guarantee on the locking mechanism of their new Epsilon™ line of tool changers being released at the Automate Show in Rosemont, IL. (April 3-6th, 2017) Residing between the robotic arm and the tool the new Epsilon™, allows the robot to change tools and support utilities on the fly with no work stoppage, a tool changer is productivity. The Epsilon™ line covers payloads from 10kg (22lbs.) to 1500kg (3300 lbs.) all with the Applied Robotics time and field proven engineered cam design.

The new Epsilon™ is built for todays faster and stronger robots. The product line features direct bolt to ISO 9409-1 patterns, higher strength materials, improved size to payload ratio, positive retract, couple/uncouple sensing, minimal required maintenance, and the time proven cam locking mechanism ARI is known for.
"Automate is the North Americas largest showcase devoted to automation industry trends, leading-edge technology and business innovation. Our new Epsilon™ line fits right in," said Kevin Drummond, Director, Sales & Marketing. "Weve incorporated advantages from three generations of our tool changers adding features to address changing customer needs where work spaces are getting tighter and loads are getting heavier. We have created units for press tending, in-auto-cabin welding and a small footprint high capacity model. We are heeding the future of automation and manufacturing."
For more information, visit Applied Robotics, Inc. this April 3-6 at booth #1262 or at their website www.appliedrobotics.com
About Applied Robotics, Inc.: Applied Robotics, Inc. ,headquartered in Glenville, NY, is a leading global provider of robotic end-of-arm tooling and connectivity solutions; specializing in tool changing, collision detection, and gripping applications. Applied Robotics provides industry and application specific solutions to the most challenging automation problems.
With over thirty years of experience engineering complex robotic and automation equipment, Applied Robotics was the first company to develop automated tool changers and continues to engineer state-of-the-art solutions allowing our customers to stay at the forefront of their respective industries all over the world.
Featured Product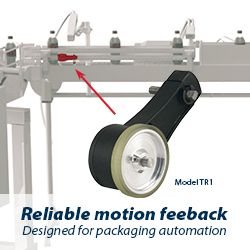 The Model TR1 Tru-Trac™ linear measurement solution is a versatile option for tracking velocity, position, or distance over a wide variety of surfaces. An integrated encoder, measuring wheel, and spring-loaded torsion arm in one, compact unit, the Model TR1 is easy to install. The spring-loaded torsion arm offers adjustable torsion load, allowing the Model TR1 to be mounted in almost any orientation - even upside-down. The threaded shaft on the pivot axis is field reversible, providing mounting access from either side. With operating speeds up to 3000 feet per minute, a wide variety of configuration options - including multiple wheel material options - and a housing made from a durable, conductive composite material that minimizes static buildup, the Model TR1 Tru-Trac™ is the ideal solution for countless applications.