Featuring the latest and most innovative collaboration and digitalization technologies that provide manufacturers greater flexibility and efficiency
ABB will exhibit a selection of its latest and most innovative robotic technologies at Automate 2017, April 3-6 at McCormick Place in Chicago. Hosted biennially by the Association for Advancing Automation (A3), Automate is the broadest industrial automation event in North America, featuring the latest in cutting-edge robotics, vision and motion control. The theme of the ABB booth (# 1635) is "Collaboration and Digitalization for the Flexible and Efficient Factory of the Future."

Collaboration is highlighted by YuMi®, the industrys first truly collaborative robot, and SafeMove2, the latest generation of ABBs safety certified robot monitoring software. YuMi is specifically designed to work alongside humans in a variety of small part assembly and material handling tasks. SafeMove2 enables people to safely work alongside ABB robots with payloads ranging from 6kg to 800kg without compromising productivity, providing an optimum level of collaboration and flexibility for higher speed, higher throughput applications that typically require more insular levels of safety.
At the ABB booth an IRB 1200 equipped with SafeMove2 will work together with YuMi®, the worlds first truly collabABB Factory of the Futureorative robot, and two humans on a contactor block assembly operation.
Digitalization tools such as ABBs Connected Services allow manufacturers to harness the full value of intelligence from single robots through to entire fleets, using real-time data from intuitive dashboards to improve robot system performance and reliability. Connected Services are part of the ongoing evolution of the Remote Services platform for robots which ABB introduced nearly a decade ago and reflect the benefits of integrating more than 6,000 robots into the manufacturing ecosystem.
Both collaboration and digitalization are essential elements of the flexible and efficient Factory of the Future, where manufacturers can respond with ease to the high mix, low volume production cycles created by shorter product lifespans, changing customer tastes and made-to-order strategies.
"One of the key advantages our North America manufacturing customers have in terms of global competitiveness is their ability to serve local customers with agility and flexibility," said Gustavo Sepulveda, USA Robotics Managing Director. "Smarter factories with smarter automation systems that take advantage of collaboration and digitalization are driving a resurgence of manufacturing and reshoring here in North America."
Highlights of the ABB Automate 2017 booth include:
Collaboration
IRB 1200 with SafeMove2: Officially introduced at Automate, the SafeMove2 equipped model of the IRB 1200 becomes the smallest ABB robot to feature the safety monitoring software. At the booth the small footprint, large work envelope IRB 1200 is working alongside two humans and YuMi in a contactor block assembly operation. The IRB 1200 is inserting the block onto a DIN Rail, with SafeMove2 allowing it to work safely in close proximity to humans.
YuMi: ABBs dual-arm collaborative robot is designed to work very closely with humans in a wide variety of small parts assembly and handling applications. In the demo one YuMi arm is inserting a relay into the contactor block, and once a human has inserted the wires into the block, the other YuMi arm screw drives the terminals to securely fasten the wires into the block and relays. In this way the human and YuMi are truly collaborating on the various steps of the assembly process. A second human is prepping the parts to keep the operation moving.
IRB 8700 with SafeMove2: Demonstrating that the power of SafeMove2 is highly scalable, even ABBs biggest robot is available with the safety certified robot monitoring software. The IRB 8700 has a reach of 3.5 meters and a payload of up to 800 kg (1000 kg with the wrist down). In the demo the IRB 8700 is carrying four 70" video screens and a 50" projector with interactive displays with information on a wide range of ABB robotic technology. Automate marks the IRB 8700s debut in the Americas.
Digitalization
ABB Ability™: Brings together ABBs full corporate portfolio of digital products and services, connecting customers to the power of the Industrial Internet of Things by turning data insights into the direct action that "closes the loop" and generates customer value in the physical world.
Connected Services: An advanced IIOT platform that monitors and analyzes intelligence directly from robots, helping to reduce 25 percent of incidents, and speeding response times and issue resolution by up to 60 percent. With over 6,000 robots connected in almost 10 years, ABB is the clear connected leader in the robotics industry.
RobotStudio®: ABBs industry leading software tool for programming, configuration and virtual commissioning, designed to maximize the productivity and greatly simplify the user interface of ABB robotic systems across all applications.
Featured Product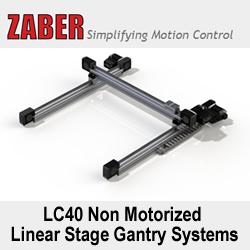 A Zaber gantry kit comes with everything you need to build a customized XY gantry system or XYZ gantry system. These gantry systems feature coordinated multi-axis motion, plug-and-play operation, easy integration with end-effector options, and built-in IO and E-Stop capabilities. An intuitive ASCII interface allows the user to easily communicate with the gantry systems using our free software, either Zaber Motion Library with APIs for several popular languages or Zaber Console. Third party terminal programs that can communicate over a serial port can also be used.