Operations Management Technology Provider Will Offer 20 Behind-the-Scenes Tours of Raleigh-Area Institutions That Are Implementing Innovative Operations Best Practices
For the first time in the companys nearly 20-year history as a technology innovator in N.C., Dude Solutions, the leading cloud-based provider of operations management solutions, is bringing its hallmark Dude University event home to Raleigh. Dude University will be hosted at the Raleigh Convention Center in Raleigh, N.C., April 30-May 3, 2017.

"We brought Dude University to Raleigh so we could showcase and support our hometown but also so we could establish a learning laboratory where attendees can learn in the classroom as well as from anchor institutions in the community," said Nick Mirisis, vice president of marketing for Dude Solutions. "We are excited to offer our attendees nearly 20 tours of local facilities that are innovating and implementing best practices in building design, conservation, security, technology planning, long-range financial modeling and smart growth."
Working with partners at the state, county and local level, Dude Solutions will offer behind the scenes facilities tours of The William Neal Reynolds Coliseum, Raleigh-Durham International Airport, WakeMed Health and Hospitals, the Wake County Justice Center and the newly-opened North Carolina Heart & Vascular Hospital, among others.
In addition, Dude University will feature local speakers including N.C. State University Chancellor Dr. Randy Woodson, Raleigh Durham International Airports President and CEO Michael Landguth, and WakeMed President and CEO Donald R. Gintzig, among others.
"Dude Solutions is an organization that demonstrates strong corporate citizenship and a responsible commitment to the greater Raleigh community. We are excited to welcome their more than 1,000 attendees for a memorable professional development experience that also highlights our vibrant region," said Dennis Edwards, president and CEO of the Greater Raleigh Convention & Visitors Bureau.
Adds Laurie Okun, sales and marketing director at the Raleigh Convention Center, "Were thrilled to host the Dude Solutions team and its many guests, and to share the regions many resources and attractions. Dude Solutions conference is a template for the ways our team can work with other companies to create indelible events in our city. We're an economic engine for Raleigh and a showplace for organizations that call it home, like Dude Solutions."
Dude University will kick off with a locally-themed and locally-sourced BBQ, Bourbon and Bluegrass outdoor concert and welcome reception at Red Hat Amphitheater on Sunday, April 30. Raleigh-based American roots and bluegrass musical group, Chatham County Line will headline the event. In addition, Raleighs vibrant music, arts and culinary delights will be featured including more than 15 local vendors including House of Swank, who designed the Dude University t-shirt, Mother Earth Spirits, whose solar-made craft sprits will be served, as well as Raleigh Denim, Raleighwood Provisions and more.
"As a homegrown Raleigh business, we are happy to be part of Dude Solutions BBQ, Bourbon and Bluegrass event which is bringing together some of the best local music, food and retail favorites in the area," said John Pugh, owner, House of Swank. "This type of event is a testament to the power of community in Raleigh and why we continue to choose to live and work in this exceptional city."
For more information about Dude University or to register please visit: https://university.dudesolutions.com/
ABOUT DUDE SOLUTIONS
Dude Solutions, parent company of SchoolDude, FacilityDude and TheWorxHub, is a leading software-as-a-service (SaaS) provider of operations management solutions to education, government, healthcare, manufacturing and membership-based organizations. The company combines innovative technology with operational insight to transform the places people learn, live, heal, work, and play. Today, more than 9,000 organizations are using Dude Solutions award-winning software for facilities, energy, safety, IT and a growing suite of related enterprise applications to increase efficiencies, improve service and save money. For more information, please visit http://www.dudesolutions.com.
Featured Product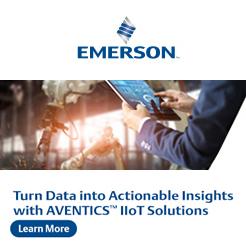 When OEMs and manufacturers need reliable pneumatics for industrial automation applications, they look to the extensive AVENTICS portfolio of cylinders, valves, air preparation and pressure regulators, engineered in Germany. With a compact design and low-maintenance technology to actuate machinery, AVENTICS pneumatics can be trusted to deliver steadfast and long-lasting operation even in the most demanding applications and environments.