The Connected Warehouse™ integrates three key elements: people, processes, and automation.
Over the past year Tompkins International has been developing a holistic vision of warehousing operations for the future, The Connected Warehouse™. The Connected Warehouse™ integrates three key elements: people, processes, and automation, to reinvent the warehouse environment for the Digital Age.

The Connected Warehouse™ is a place where people and technology co-exist in such a way that workers will operate in a more efficient, cost effective, and reliable environment that is comfortable, safe, and secure. The growth in machine automation, devices and sensors, and an overall increase in volumes and complexity in the age of digital commerce necessitate the design of such a connected facility. The Internet of Things (IoT) makes The Connected Warehouse™ a reality.
The Connected Warehouse™ is powered by SensorThink. SensorThink is the first digital platform built for the demands of the warehouse. Every piece of digital information generated in the warehouse can be collected, processed, archived, and analyzed, allowing one to manage material handling automation, security, HVAC, lighting, lift trucks, and maintenance systems in a way never before possible. SensorThink's cloud machine learning and cross platform analytics engine allows you to view and analyze this information within the building or across the distribution network. For the first time, SensorThink ties all of the elements of production, performance, and execution into one platform.
The Tompkins Warehouse Execution System (WES) is now integrated with the SensorThink platform, making orchestration of The Connected Warehouse™ possible. The Tompkins WES is the first system designed to capitalize on IoT in the warehouse. Tompkins WES can access information from IoT and non-IoT enabled devices, machines and sensors, and other software solutions. This unique interaction with the warehouse's digital landscape allows Tompkins WES to manage operational tasks and material handling automation in an unprecedented fashion, all while providing a seamless view of process, data, and performance. The combination of Tompkins WES and SensorThink provides distribution center operators with visibility and capabilities that until now were simply unavailable.
Tompkins International welcomes you to The Connected Warehouse™.
Join us at ProMat in Chicago, IL from April 3rd through 6th to learn firsthand about The Connected Warehouse™. You will have the opportunity to see live demonstrations of SensorThink and the Tompkins WES. We will be located in booth S4468.
Featured Product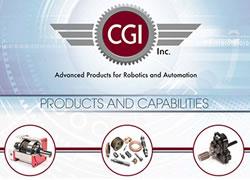 From Prototype to Production CGI Motion enables design excellence across a wide range of industrial applications. We thrive on customer driven innovation in precision gearbox, precision machined components and electro-mechanical assembly solutions ranging from aerospace systems to semiconductor applications. We are your design and manufacturing partner helping to differentiate your product, machine or innovation. Our team of problem solving engineers and product managers can bring your application to market on time and under budget. Whether it's an improvement on a current design or groundbreaking new designs, CGI has the know-how and team to enable design excellence. Connect with us today to explore what CGI Motion can do for you.