With the introduction of this new sanitary valve family, Festo becomes the only global single-source supplier for control-cabinet-to-pipe automation for utility processes. (Festo Interphex Booth #1834) (Festo AquaJellies - the bionic artificial jellyfish - also at Interphex)
HAUPPAUGE, NY, March 16, 2017 — Capping a multi-year initiative to become the worlds sole one-source supplier for automating utility processes in the pharmaceutical and biotechnology industries, Festo introduces at Interphex 2017, March 21-23, at the Javits Center in New York City, sanitary ball, angle seat, and pinch valves. With this introduction, Festo now offers seamless automation from control cabinet to pipe for steam, inert gases, water, cleaning solutions, and powders applications. (Festo Interphex Booth #1834)

Interphex visitors to the Festo booth can also see AquaJellies - bionic, autonomous jellyfish - in their 500 gallon/1,900 liter tank.
The new automated valve solutions feature the companys VZBE ball valves, VZXA angle seat valves, VZQA pinch valves, DFPD quarter-turn actuators, VSNC NAMUR pilot valves, and the SRBC family of open/close sensor boxes. For proportional flow applications, Festo offers the feature-rich, yet cost effective, CMSX digital positioner. Festo research and development efforts are currently engineering advanced diagnostics into the valves to support Industry 4.0 and the Industrial Internet of Things functionality for greater flexibility and operational performance.
End users, OEMs, and engineering companies simply provide the Festo Customer Solutions group or Festo distributors with the requirements of the control-to-pipe application. Festo sizes the components and at the customers request can provide fully assembled and tested valve terminals and automated valve assemblies for plug-and-play installation or parts ready for assembly all in one box with a single unique part number. Festo globally supports and resupplies unique part numbers at all customer locations.
"At Interphex, we will discuss process control strategies and global support, as well as showcase the new valves," said Craig Correia, Head of Process Automation, Festo. "We will demonstrate how using a single-source supplier for process valves and control systems, working alongside customer personnel as a team member, results in safer and more reliable solutions. Visitors will see the latest innovations in control technology driven by Industry 4.0 concepts. Festo modular and flexible solutions ensure that customers obtain the most suitable package for the application."
Booth personnel will utilize static and dynamic exhibits to demonstrate that partnering with Festo as a global single-source supplier will result in: Faster time to market, lower engineering costs, plug-and-play solutions, lower installation costs, lower maintenance effort, faster service in case of breakdown everywhere in the world, increased productivity through process efficiency, and identical architecture and products plant to plant.
The new valves from Festo feature 316-stainless steel bodies and Teflon seats. Valves are rated up to 1,000 psi and 400° Fahrenheit (200° C). These 3A approved valves feature tri-clamp and welding connections. Fire-safe API607 valves with ANSI flange connections are also available.
Visit the pharmaceutical and biotechnology industries webpages for an overview of capabilities as well as the new Festo process control micro website www.festo.com/teamwork. Information on all other Festo factory and process automation solutions can be found at www.festo.us and by calling 800-993-3786.
###
About Festo
Festo is a leading manufacturer of pneumatic and electromechanical systems, components, and controls for process and industrial automation. For more than 40 years, Festo Corporation has continuously elevated the state of manufacturing with innovations and optimized motion control solutions that deliver higher performing, more profitable automated manufacturing and processing equipment.
Connect with Festo: Facebook, LinkedIn, Twitter and YouTube
Featured Product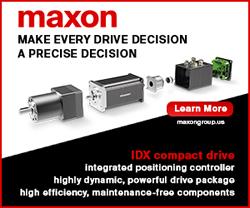 maxon motor launches new high-speed motors that are configurable online. The new ECX brushless motors are quiet and feature very high efficiency. The ECX motors are available with diameters of 8, 16 and 19 mm achieving speeds of up to 120,000 rpm. They run very smoothly and are highly efficient. With maxon motor's online configurator, it is easy to put together a customized DC motor to include gearhead, encoder and controller. The customized motors are ready to ship in 11 days!