New High-End Controller/Driver based on 4 decades of PI piezo nanopositioning experience produces higher resolution, bandwidth.
Once again, PI has improved upon its best in class with a new reference-class digital controller / driver offering higher bandwidth and resolution, along with 3 times the driver power of its predecessor. From the nanopositioning systems industry leader, the E-754 is designed for closed-loop piezo mechanisms with capacitive position feedback sensors.

22 Bit Resolution and 50 kHz Servo-Bandwidth, Digital Linearization
Several decades of knowledge and experience are built into the E-754 controller. It provides a best in class ultra-fast servo with 50 kHz update rate and 22-bit resolution. In addition to PID control, two programmable notch filters are integrated for higher bandwidth by suppression of mechanical system resonances. Digital linearization is based on 4th order polynomials to suppress linearity deviation to less than 0.01%. The Dynamic Digital Linearization (DDL) firmware option eliminates phase lag and dynamic non-linearities at high operating frequencies, such as used in scanning applications. The driver provides 500mA peak current and -30 to 135V output voltage swing.
Multiple Interfaces, Digital and Analog
In addition to Ethernet (TCP/IP), SPI, USB, RS-232 communication interfaces, 4 I/O trigger lines and a high-resolution, 20 bit DAC analog command interface is also installed. A built-in high-speed data recorder allows capture of transients and optimization of servo parameters.
Auto-Calibration ID Chip for Quick Start Up and Interchangeability of Controller and Mechanics, Comprehensive Software Package
ID chip compatibility allows for quick start-up and interchangeability of controller and piezo mechanisms without recalibration, a critical feature for OEMs. The controller also comes with extensive software support for LabVIEW and shared libraries for Windows and Linux.
Specifications, Datasheet, More Information>
Applications of the E-754
Applications for the new dynamic controller include nanopositioning, nano-automation, semiconductor technology, photonics, bio-nano-technology, metrology, microscopy, micro-manipulation, including cleanroom applications.
Features & Advantages:
50 kHz Servo Loop
22-Bit DAC Resolution
20-Bit Analog Command Interface
45 W Peak Power, 500mA Peak Current
USB, Ethernet (TCP/IP), SPI, RS-232 Interfaces
Standard and Custom
PI has over 4 decades of experience providing in-house engineered precision motion control solutions, and can quickly modify existing product designs or provide a fully customized OEM part to fit the exact requirements of the customer's application.
Featured Product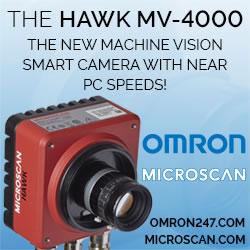 Awe-inspiring power and superior flexibility is sheathed within the contoured casing of the HAWK MV-4000. This smart camera builds upon the previous generation by quadrupling processing power and achieving real-time trigger response using an FPGA. Its state-of-the-art algorithms make it an excellent tool for any industry, whether the requirement be code reading, code verification, inspection, guidance, gauging or a combination of all four.