Vention.io is announcing the beta launch of their browser-based 3D machine builder platform, enabling established and emerging designers to design and order their custom industrial equipment in just a few days.
Vention.io is announcing the beta launch of their browser-based 3D machine builder platform, enabling established and emerging designers to design and order their custom industrial equipment in just a few days.

Vention is providing an intelligent cloud-based 3D design platform, embedding a library of "ready-to-order" industrial-grade components. The platform is suited for the design of fixed and automated equipment in the fields of small business automation, lean manufacturing, product validation and research, and industrial design. Usage of the platform is free and users can order their machine for next day shipment upon design completion. To experience the platform, potential users are invited to sign up for free on http://www.vention.io or to submit their project ideas to project(at)vention(dot)io
"It became obvious to us that the next frontier for faster machine design wasnt better design tools or higher performance hardware, but rather the integration between the two. The launch of our beta program is a first step in enabling our partners to experience a novel design and build workflow that will accelerate the machine design process more than 5-fold," says founder and CEO Etienne Lacroix.
Moreover, by incorporating artificial intelligence in their platform, Vention aims to create a 3D design experience that is significantly easier and faster than with traditional tools.
Ventions ease of use philosophy revolves around the "one-part, one-click" component insertion feature, enabling the 3D assembly of machines to mimic that of the physical world.
"With the help of artificial intelligence, we are paving the way for significant democratization of mechanical engineering. We want to enable design-savvy individuals who never used a CAD software, to 3D design industrial machines and prototypes. Similar technology democratization in web development (i.e., WordPress, Squarespace, Wix) were complete game-changers; we are creating the equivalent for machine design," adds CTO Max Windisch.
Vention integrates part selection, 3D design, and component purchasing, eliminating the need for 2D drawings and manual bill of material management. Integration between design software and industrial hardware is the primary contributor to cycle-time improvement. The infrastructure is entirely cloud-based, enabling Vention to implement real-time collaboration features. Below is a list of features currently available on the beta version of Vention.
A library of structural, motion, and control components.
A free cloud-based 3D Machine Builder
Artificial intelligence-enabled 3D constraints
Real-time cost and weight in the 3D Machine Builder environment.
Automatic fasteners and bill of material management.
Access to a library of user-generated public designs
Invitation of individual collaborators to a design
Ability to set up a private design group
Submission of new component ideas
Personalized assembly instructions with purchase orders
The company recently raised a pre-seed round led by Boston-based Bolt, a premier fund for startups at the intersection of hardware and software with significant expertise in CAD, and Canadian-based Real Ventures, Canadas most active seed investor. In addition, this round was joined by a group of prominent angels from the computer-aided design and the robotic industries. Prominent investors include Jon Stevenson, a former executive of PTC and GrabCAD, and Rob Stevens, a former executive of GrabCAD and Amazon Robotics.
Furthermore, Vention was announced as a part of the 2016-2017 cohort of the Creative Destruction Lab of the Rotman School of Management at the University of Toronto, one of Canadas leading accelerators for the commercialization of science-based companies.
About Vention.io
Vention is the first machine builder platform, allowing users to design and order custom industrial equipment from a web browser in just a few days. Vention was founded in 2016 by former mechanical and software engineers from General Electric, McKinsey & Co, Microsoft, VMware, and Pivotal. The company is aiming to become a central tool within the machine design ecosystem. http://www.vention.io
About Bolt
Bolt is a venture capital firm designed to address the unique needs of early-stage startups at the intersection of hardware and software. In addition to capital, portfolio companies get support from Bolt's world-class engineering team, access to cutting-edge prototyping shops in San Francisco and Boston, and help with manufacturing. More information at http://www.bolt.io
About Real Ventures
Real Ventures invests in ambitious entrepreneurs that are creating the Internet experiences of the future or are embracing the power of the Internet to disrupt existing industries or business models. Investing pre-traction, its team and networks support entrepreneurs and propel their companies forward. http://www.realventures.com
Featured Product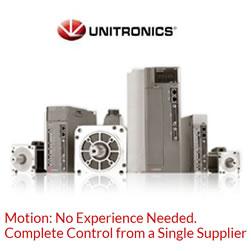 Unitronics' new line of AC Servo Drives & Motors changes the traditional approach to motion control. They are simple to set up and painless to program. Unitronics Servos simplify implementation of motion applications while minimizing complexity and reducing development time. Some of the easy-to-use features in this new line include implementing motion control easily with ready-made motion code, embedded diagnostic tools, and automatic communication setup.