Silicon Valley Industrial IoT startup named along with leading industry giants as one of Appcessories 10 Internet of Things Companies to Watch in 2017
FogHorn™ Systems, a leading developer of edge analytics and machine learning software for industrial and commercial Internet of Things (IoT) applications, announced today that it has been recognized by the UK-based media website Appcessories as one of 10 IoT Companies to Watch in 2017. In addition to FogHorn, the article also included industry giants Qualcomm, Cisco, Intel, Amazon Web Services, Microsoft, Google, Tesla and IBM as leading IoT companies in its top 10 list.

According to the article in Appcessories, "It is not just the big names dominating the IoT landscape; some smaller companies are also taking big steps in securing their future when IoT goes big. If its past is anything to go by, FogHorn Systems is poised to be one of the key drivers of IoT. Expect some big things in 2017."
This announcement is the third recent public acknowledgement of FogHorn's leadership and innovation as a leading Industrial IoT (IIoT) startup. In December, CRN Magazine recognized FogHorn as one of the Top 10 Coolest IoT Startups as well as a Top 10 Coolest Startup in all of technology for 2016. FogHorn also led a field of eight companies recognized by HPE Matter, a digital magazine produced by Hewlett Packard Enterprise as the #1 Hottest IoT Company that will make the biggest splash in 2017.
Being included on the Appcessories list of companies to watch underscores FogHorn's expanding recognition as a leading IIoT innovator," said FogHorn CEO David C. King. "As our current trajectory continues to accelerate, we fully expect 2017 to be a major breakthrough year for FogHorn and the whole IIoT industry."
For additional information or a product demonstration
Visit the FogHorn web site at http://www.foghorn-systems.com or send an email to info(at)foghorn-systems(dot)com for an individual demonstration.
Read full article
FogHorn Energy Forecasting Demo
About FogHorn Systems
FogHorn is a leading developer of "edge intelligence" software for industrial and commercial IoT application solutions. FogHorn's software platform brings the power of advanced analytics and machine learning to the on-premise edge environment enabling a new class of applications for advanced monitoring and diagnostics, machine performance optimization, proactive maintenance and operational intelligence use cases. FogHorn's technology is ideally suited for OEMs, systems integrators and end customers in manufacturing, power and water, oil and gas, renewable energy, mining, transportation, healthcare, retail, as well as Smart Grid, Smart City, Smart Building and connected vehicle applications.
FogHorn and Lightning are trademarks of FogHorn Systems. The names of actual companies and products mentioned herein may be the trademarks of their respective owners.
Featured Product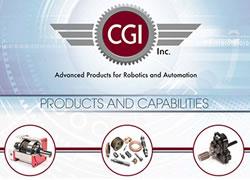 From Prototype to Production CGI Motion enables design excellence across a wide range of industrial applications. We thrive on customer driven innovation in precision gearbox, precision machined components and electro-mechanical assembly solutions ranging from aerospace systems to semiconductor applications. We are your design and manufacturing partner helping to differentiate your product, machine or innovation. Our team of problem solving engineers and product managers can bring your application to market on time and under budget. Whether it's an improvement on a current design or groundbreaking new designs, CGI has the know-how and team to enable design excellence. Connect with us today to explore what CGI Motion can do for you.