Superior strength provides superior quality and accuracy in drilling applications
Dover, OH - Allied Machine & Engineering, a leading manufacturer of holemaking and finishing tooling systems, proudly announces the continued success of Wohlhaupter's MVS modular connection system. As the original developer of modular tooling systems, Wohlhaupter shares its expertise with the drilling industry in the form of time-tested quality products, now part of Allied's solutions for holemaking and finishing challenges. Part of the Multibore collection, the MVS connection is a flexible system designed primarily for drilling and boring, with application possibilities in tapping, endmilling, and light shell milling.

The MVS connection is a modular connection that allows for extended lengths or reduced diameters by using a series of components engineered for flexible adaptation to a manufacturing application. It comes in four sizes to accommodate the diameter range of the boring required: MVS 50-28, 63-36, 80-36, and 100- 56. Operators can easily build and change tooling components and this flexibility lets the MVS system work accurately for almost any project needs.
One of the strongest connections on the market, it offers a mating and clamping draw force of approximately 1900 psi. This superior strength is provided by a three point triangular system. The pressure points are an equal 120 degrees apart, creating high rigidity, high performance capability, and a total system accuracy of 3 microns.
The original concept for this connection was developed in 1973 and has proven its ingenuity time and again over the last 43 years, consistently outperforming other modular programs. The system holds tolerances of 0.002 microns ID to OD and a consistent 0.002 microns of parallelism between mating surfaces. Only a connection system with the strength of the MVS allows for such tight tolerances and superior quality components and surfaces.
For more information visit: http://wohlhaupterus.com/products/multibore_modular_system/mvs_connection/index.html.
###
About Allied Machine & Engineering Corp.:
Allied Machine & Engineering Corp. is a leading manufacturer of holemaking and finishing tooling systems. Allied devotes its advanced engineering and manufacturing capabilities to creating the widest selection of value-added tooling available to metal-cutting industries around the world. Our tooling solutions deliver the lowest cost-per-hole in a wide range of drilling, boring, reaming, threading, and burnishing applications.
Located in Dover, Ohio, Allied's precision holemaking technologies provide end users worldwide with the highest level of drill performance. Precision engineering and expert application support make Allied the first and best choice for solving complex metal-cutting challenges.
About Wohlhaupter:
Wohlhaupter manufactures the widest range of precision boring tools and systems available in the marketplace. For more than 85 years, Wohlhaupter has been the consistent leader in technological innovations for improving precision boring operations. Industry firsts include the original UPA facing and boring head, MultiBore component tooling system, self-balancing tools, tough aluminum alloy tool bodies, and tools with digital readout tool setting. Highly trained Wohlhaupter application engineers are available to assess specific boring needs and provide cost-effective solutions for the most complex and demanding boring operations.
Featured Product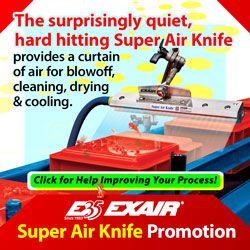 EXAIR's Super Air Knife is a quiet, hard-hitting curtain of air that dramatically reduces compressed air usage and noise when compared to other blowoffs. The Super Air Knife offers a more efficient way to clean, dry or cool parts, webs or conveyors. It delivers a uniform sheet of laminar airflow across the entire length with hard-hitting force. Noisy blowoffs become a whisper when replaced with the compact Super Air Knife. Even at high pressures of 80 PSIG (5.5 BAR), the sound level is surprisingly quiet at 69 dBA for most applications! Air amplification ratios (entrained air to compressed air) of 40:1 are produced. Meets OSHA maximum dead-end pressure and noise requirements. See the Super Air Knife in action at https://exair.co/watchairknives?pub=184.akv Special promotion is available now. www.exair.com/184/sakpromopr.htm