Using 3D CAD modeling in components manufacturing industry helps the manufacturer for designing, delivery of product, synchronized design and manufacturing.
Staying at the top of manufacturing industry is just as hard as getting there. The keen requirement of the industry is to have completely error-free, comprehensive designs for the components to be manufactured. With adoption of innovative technologies, software like SolidWorks equipped with powerful modeling and sketching tools enables the designer to generate accurate, quick and comprehensive three dimensional designs. 3D design approach allows industry professionals to benefit across the entire value chain, right from concept through manufacturing. Owing to such benefits, manufacturers are now shifting to 3D CAD modeling platform for the ease in design communication between departments and suppliers as well as in manufacturing.

Understanding the purpose of 3D CAD models
Though professionals on the shop floor see 2D drawings as the bible for manufacturing; any change order from shop floor will consume significant time in reworking on the drawings. Besides this, different versions of the drawings make it difficult to bring everyone involved in the product development on the same page. On the other hand, with 3D approach, a solid model of the product can remain a single source of truth across all the departments, eliminating the reasons to delay the product development process. The model can be quickly modified according to the change orders, and the change then automatically reflects in the drawings. 3D modeling approach essentially helps the
manufacturer to bring products faster to market.
3D CAD modeling
software allows the user to develop solid and surface models, and quickly associates them with 2D drawings, without enforcing the users to abandon their long ongoing relationship of working in the 2D environment. Influential SolidWorks software assists the user to couple the feature-based solid modeling with 2D drawings creation and annotation. Along with accurate part and assembly modeling, it further allows the designer to add manufacturing details like surface finish, assembly notes etc. with advanced model annotation tools.
Most often, the design task is performed across multiple platforms, leading to interoperability issues. This however is taken care of by using neutral file formats throughout the development cycle. CAD formats such as STEP or IGES prevent possibilities of errors and allows the designer to create a final assembly model with minimal rework.
As an alternative, leading manufacturing firms now adopt model centric design approach to represent manufacturing functional characteristics of the industrial product. MDB, a combination of 3D geometry and Product Manufacturing Information (PMI), can be implemented efficiently in SOLIDWORKS as well as in any CAD software that supports PMI.
Hi-Tech enabled a road line equipment manufacturer to reduce manufacturing time by 40%, by implementing 3D workflows across the product development process. The non-editable design information in form of sketches and PDFs were converted to editable 3D models with PMI using SOLIDWORKS platform. In addition to PMI, 3D PDF file format has also attained greater steps of visual communication for 3D CAD data and MBD. 3D PDF is widely used for representing and communicating designs, but it can also be employed to read and convert NURBS. Currently, with several upgradations and enhancements, the 3D pdf file format has ability of representing both the modeled information and PMI.
Although there has been a continued legacy of 2D drawings in the manufacturing and fabrication industry, shifting to a 3D CAD modeling approach improves productivity through effective design communication, which is reflected in the quality and efficiency in manufacturing.
Featured Product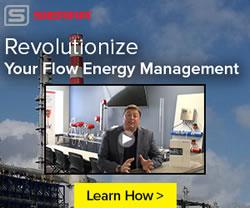 Sierra Instruments announces the launch of its new flow energy solution for managing and optimizing flow measurement for industrial facilities of all sizes. It features Sierra's QuadraTherm 640i/780i thermal flow meters, their InnovaMass 240i/241i vortex flow meters, and their new InnovaSonic 207i ultrasonic flow meter. Designed, built, and calibrated in the USA by Sierra, the Big-3TM share the same revolutionary Raptor firmware and many of the same software apps. They are a complete flow energy solution for flows like compressed air, natural gas, steam, and hot and chilled water. Together, they set a new standard in ease-of-purchase, performance, accuracy, reliability, and ease of use.